The FileMaker Developer Conference took place this past week in Las Vegas. This annual gathering gives us all the chance to learn what FileMaker, Inc. has in store for the future, to connect with the community, and to share, learn, and grow. I'm Dawn Heady, a Technical Solutions Architect for Soliant — if you didn't get a chance to attend, here's what I took from the fantastic week.
Soliant Consulting sent a team of 26 employees to the conference from our staple of developers, technical architects, project managers, business analysts, and executives. We greatly value the opportunity DevCon offers to:
Learn new skills and techniques;
Meet old friends and make new ones;
Peek behind the curtain to see what's in the works in the FileMaker labs;
Get insights into the FileMaker product roadmap; and
Be inspired by the fantastic solutions being crafted using FileMaker.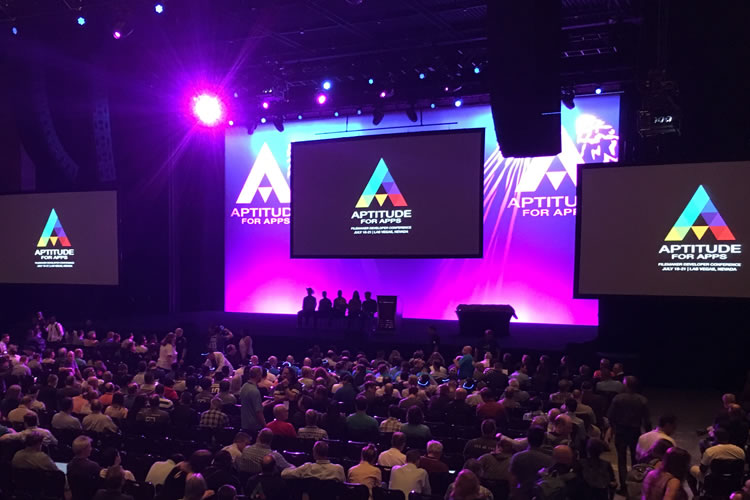 FileMaker News
During the keynote session, FileMaker Inc. announced a new partnership with Lynda.com by LinkedIn to create a Learning Paths entitled "Become a FileMaker Custom App Developer". The video curriculum includes 34 hours of expert-created video tutorials and covers not just core FileMaker Pro development skills but also design principals, how to effectively work on virtual teams, and the fundaments of project management. Video training is increasing becoming a great avenue to computer learning.
FileMaker, Inc. also shared other big plans; but unfortunately, I cannot yet reveal the announcement as it is confidential. Suffice it to say the forthcoming product from FMI has the community excited and we at Soliant believe it will be a welcome, groundbreaking step for the Apple subsidiary.
Six Tracks but One Focus
The theme of DevCon 2016 was Aptitude for Apps. With the release of the FileMaker iOS SDK and the FileMaker 15 release, FileMaker Inc. is encouraging us to make the paradigm switch of thinking of the solutions we build in FileMaker as apps. The more I think about it, the more I like this idea. In reality FileMaker Pro is more of a programming language we use to create and deliver great custom applications.
FileMaker Inc. is encouraging us to make the paradigm switch of thinking of the solutions we build in FileMaker as apps.
The 50 plus conference sessions were categorized into six tracks: Core, Design, Mobility, Innovation, Business, and Web, but developing for the remote user was the underlying focus that tied the majority of sessions together.
The Design track sessions featured techniques for developing clean, elegant interfaces that dynamically adapt for the user's device and orientation.
The innovation track included methods for allowing your custom app to integrate with web services, other apps, and the internet of things.
The Web track included many sessions on developing for WebDirect, which among other platforms supports Android mobile phones and tablets.
Delivering apps that are easy to use, perform well, and are secure, regardless of the user's device or location, has never been more important. A common theme among the Core track sessions was improving performance, architecting for the WAN, and cloud hosting.
The most important takeaway for our clients and all developers is that the architecture of a FileMaker app has never been more critical. The desktop on a local network backed by a solid server — the most common way in which FileMaker solutions have been used in years past — can be a somewhat forgiving environment. I wouldn't say that it gave us license to ignore best practices and performance considerations — quite the contrary — but in today's world, with mobile access, Web Direct, and API-driven integrations, it's clear that FileMaker solutions need to be designed with an array of interface, performance, network, and security considerations in mind.
Under the Hood
FileMaker Inc. engineers led several "under the hood" sessions that provide details as to how FileMaker Pro, FileMaker Server, and FileMaker WebDirect perform common operations and techniques for increasing performance. These sessions included:
"Under the Hood: Draco Database Engine" by Clay Maeckel
"Under the Hood: Server Performance" by Jon Thatcher
"Under the Hood: PSR Benchmarking Methodology" by James Qiu
"Under the Hood: Maximizing FileMaker WebDirect Scalability" by Vin Addala
The under the hood presentations are always among the favorite sessions of our Soliant team and each was excellent. For those of you who did not attend DevCon2016, Clay presented a version of the Draco Database Engine session October 2015 in Bruges, Belgium. Here's a public link to a recording of that: https://www.youtube.com/watch?v=e9z4PL6QdzQ. Vin also presented on WebDirect last year. Though this year's session was new for FileMaker 15, you can still learn a lot from this publicly available recording
Philanthropic Endeavors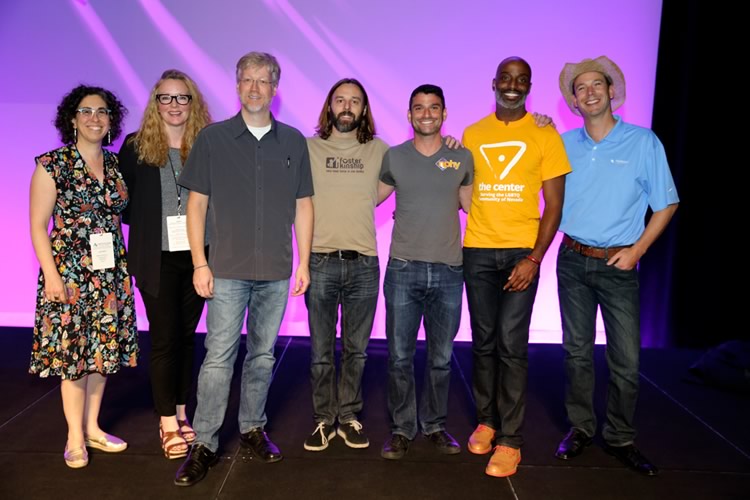 FileMaker developers have always generously given their time to assist nonprofit organizations. It was especially heartening to see this year's conference emphasize "Purpose Driven Work" and philanthropic efforts within the community. The keynote presentation highlighted a pair of custom apps on iPads to gather medical information while meeting with patients in remote corners of the world. These apps were developed for Youth With a Mission (YWAM) by Gearbox Solutions and  The Luke Commission (TLC) by Soliant Consulting.
Watch the video and read the case study about the app we built.
This year's Developer Challenge "Custom Apps for Community" also had a philanthropic focus. The Las Vegas-based nonprofit beneficiaries are:
Registered DevCon attendees were then invited to compete in the challenge and roughly 70 developers answered the call. Working in small groups, they collectively contributed hundreds of hours, working before DevCon and during their conference free time, to build their vision of a custom app that would best meet the organization's needs. From the 17 teams, a winner was selected for each nonprofit.
Soliant Consulting sponsored the event. July Belber, one of our business analysts, met with each nonprofit to discern their needs and document requirements and then was available to the competitors to answer questions and clarify requirements. Read more about her experience…
Three other FileMaker Business Alliance members have each agreed to work with one of the nonprofit organizations to help finish-up their app: dbservices, iSolutions, and Skeleton Key. FileMaker Inc. provided the three nonprofits with two-year licenses for FileMaker Licensing for Teams, and each is receiving a free registration to the FileMaker Developer Conference.
Soliant Team
Our team members were also hard at work to help make DevCon 2016 great. Sara Severson and Bob Bowers each lead very successful Training Day sessions on Intermediate and Advanced FileMaker development, respectively. Makah Encarnacao presented an outstanding session "Building Developer-Friendly Custom Apps". Though she was a first time presenter, I suspect it will not be her last. Several of our team also took a shift manning the FileMaker Visionary Bar to offer free advice and troubleshooting assistance.