The Kennedy/Marshall Company
From Design to On-Set Delivery–in Three Weeks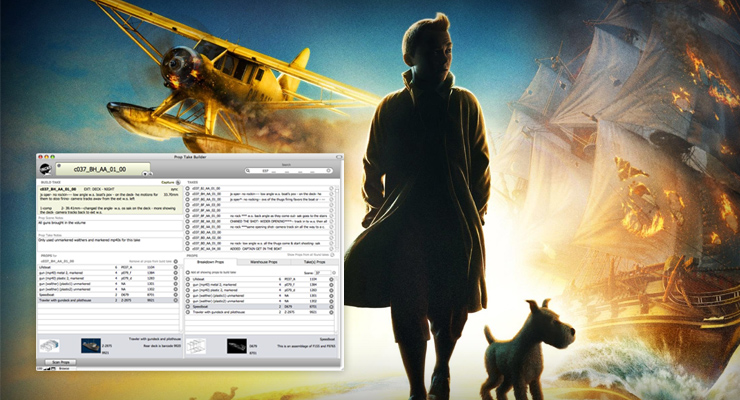 In late 2008, production began on the animated movie The Adventures of Tintin: Secret of the Unicorn, Steven Spielberg and Peter Jackson's adaptation of the Belgian comic strip, filmed entirely using performance capture techniques. Performance capture is a revolutionary way to create animation by filming real actors and integrating true performance with the flexibility of computer animation.
When using performance capture, it is critical for the production team to keep track of the hundreds of props and set elements used in each take. Connie Kennedy, Tintin's Digital Asset Manager, brought in Soliant Consulting to develop requirements and build a custom application that could meet the immediate demands of the crew and directors.
In the film industry we work fast: Soliant not only kept pace, they maintained incredible flexibility and service. I've never encountered a software organization like theirs.
Traditionally the script supervisor and props supervisor are responsible for tracking props and scene continuity, but with performance capture, a high level of detail is required by multiple departments. Digital markers on each asset must be positively matched with their animated avatars during the editing and post-production processes.
In addition to the requirements for production, Tintin's producers anticipate filming sequels—so all of the physical assets needed to be tracked, manifested and packed into shipping containers in an orderly manner once production wraps on the first film.
Digital Asset Manager, Tintin
Working with Soliant to invent a new system for managing props has been really rewarding. I've been able to completely rely on their technical expertise and creativity. It's satisfying to see the software evolve just as we're inventing a new way to film.
Rapid Development and Seamless Workflow
The team recognized they'd need to invent a new way to manage props that would not encumber the shooting crew and yield a high level of prop and set tracking detail. In three weeks, Soliant developed a custom application that satisfied the evolving requirements of the crew: they can now quickly develop inventories of assets, including both physical and digital versions, that then are easily organized and tagged with meta information. Attributes include common names, inventory codes, and ID numbers generated by the film's animation software. Barcode tags allow for quick retrieval and cataloging of any prop using wireless scanners. With a wireless scanner, the prop crew can easily scan props on and off each take, and conveniently add and subtract props from a take using search, breakdowns, cloning previous takes, etc. The prop supervisor is now able to create traditional scene breakdowns, printed as a reference for the scenes planned for shooting each day, and to preload first takes whenever the shooting crew switches to a new scene.
Script Supervisor, Tintin
I'll admit, I had my doubts… there's little time on-set for fiddling with a computer, but Soliant really converted me with a screen that gives me just what I need and no more. They've been great to work with.
The database serves a second function for the script supervisor: while filming, the script supervisor publishes the active slate number. Soliant built a custom Adobe Flex app that runs on any monitor connected to the network to display the take and scene number in real-time. The crew can simply refer to their monitors for this information rather than rely on verbal instructions or delayed information.
Not only does the application allow the prop and script departments to accomplish their traditional tasks, it also provides conveniences that make their work easier. The prop inventory and breakdown interface replaced a cumbersome Excel spreadsheet: the new breakdown application allows the prop supervisor to create lists and binder pages sorted by day or by scene that previously were not easy to create. It also eliminates an enormous amount of redundancy traditionally done with copy and paste. Revisions are more accurate and more convenient.
In the span of three weeks, Soliant's team created the first release of the application, and over the course of the traditional rehearsal period, refined it to be ready for production.

About The Kennedy/Marshall Company
For over twenty years, The Kennedy/Marshall Company has provided commercially successful and critically acclaimed entertainment to audiences worldwide. Established in 1991 by award-winning producers Kathleen Kennedy and Frank Marshall, The Kennedy/Marshall Company is one of the most respected production companies in the entertainment industry.