This is the first in the series of posts about the Web Viewer Integrations Library.

I seem to have developed an obsession with the web viewer in FileMaker. That fact is surprising because it was only three years ago that I knew nothing about the object. Back then, I decided that, while continuing to learn FileMaker, I'd start to learn how to do more in my custom apps with the the languages of the web. Every chance I got, I'd try to implement a Google map or a chart either into a project or in a simple demo file. At first it was painfully slow; trying to get a chart into FileMaker via the web viewer was too complex and was overkill in the time spent on the implementation. Never one to back away from a challenge, I pushed through, and eventually, it became much easier. The object became more fun to work with, and I pushed myself to try and do more with it.
I'm grateful to people here at Soliant for helping with the inspiration. My colleague Mike Duncan has written about it in his "Getting Started with Javascript and FileMaker" post, and so has Ross Johnson in his post, "Drag and Drop jQuery Interface for Exploring Records to CSV". I've explored what could be done with it briefly as well. Suffice it to say, we at Soliant like the web viewer.
It occurred to me one day: why not put all of the integrations together in one library? I had put together many sample files but they were all over my computer and, in some cases, I had forgotten the password to open it up. This idea, putting all the integrations together, led me to creating the Web Viewer Integrations library, which I present to you fully open and unlocked.
My goal for the library was twofold:
First, the collection should gather together integrations that are useful in FileMaker and that are useful for normal solutions to use cases presented by the client.
Second, it needed to be standardized as much as possible and easily extracted from this file into a client app.
I set about that by scouring the internet for those integrations that are useful to FileMaker use cases: filling in an address form, charting, mapping, and so forth. I got ideas from the work I've done in projects as well as use cases that other people were working on. While on the hunt, I allowed myself the time to play a bit with less-useful integrations. What is contained in this library is probably 85% extremely-useful and 15% less-but-still useful.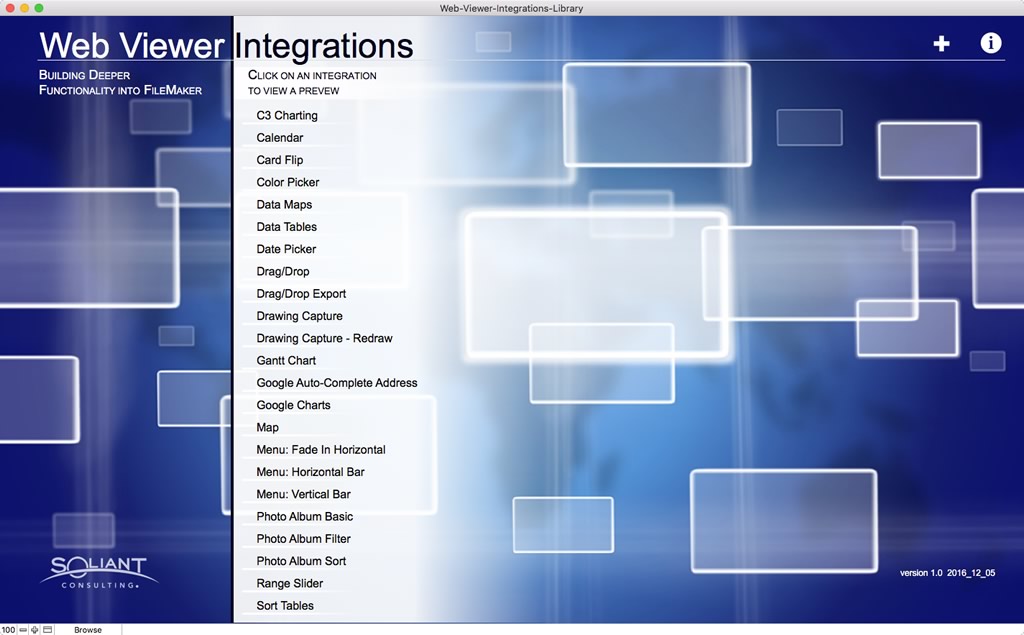 To achieve the second goal, I took up a number of best practices that have been discussed between myself and various people here at Soliant. In the next post, we'll take a look at the way this file is set up and have a brief discussion on those best practices.
So this library, version 1.0, is the result of my scouring the internet, wrestling with the structure, and lots of testing to get these 22 integrations to work well inside a web viewer and with FileMaker data. It is free and open for you to use and to manipulate and export into your own custom app.
My hope is that anyone can learn how to use the web viewer and can bring deeper functionality into their FileMaker custom app quickly.
About the cross-platform compatibility: I built this file primarily on the mac OS. On Windows, most of the integrations work well; some are missing cool animations and such. So be aware of that. I'm looking into dealing with this compatibility issue. I hope to have an update soon.
A final note: the integrations presented in this library are the result of the work I did to find usable features for FileMaker data. All of these integrations should carefully be considered before implementing into your own custom app. Also, as I mentioned, this is version 1.0. I plan to keep adding resources to this library. Stay tuned to this blog for updates to the file, and if you have any integrations that would be great, let me know!
PS. I am extremely grateful to colleagues here at Soliant: Agnes Riley, Mike Duncan, Wim Decorte, and others for offering specific feedback on this file. My buddy David Jondreau pitched in and offered some good UX experience. And to Jan Jung. She helped get these posts up and kept reminding me to finish the accompanying videos. Her eagle eye ensured that everything looks good. Thanks all.
Get the Web Viewer Integrations Demo File
If you have any questions, please reach out to our Carafe team.
Next Post
---
These are the other blog posts and videos that go into further detail about this file and how to integrate these into your own custom apps: