Soliant Consulting was honored to participate in Claris International's first Demo Day, an event allowing members of the media an opportunity to hear several FileMaker success stories and learn about the future product vision for the company. Demo Day was held on Thursday, November 14, at Claris HQ, also known as "the Wedge," in Santa Clara, CA. Our team attended to support one of the presenters, ALS Never Surrender.
Meeting Peers and Clients
Our CEO, Bob Bowers, and I represented Soliant Consulting at the event. Our day started with chatting at the presentation tables with all of the speakers. We were able to meet the members of the ALS Never Surrender team in person for the first time, despite being in communication with them for nearly a year now. We also talked with members of the press, all while enjoying some coffee and delicious sushi.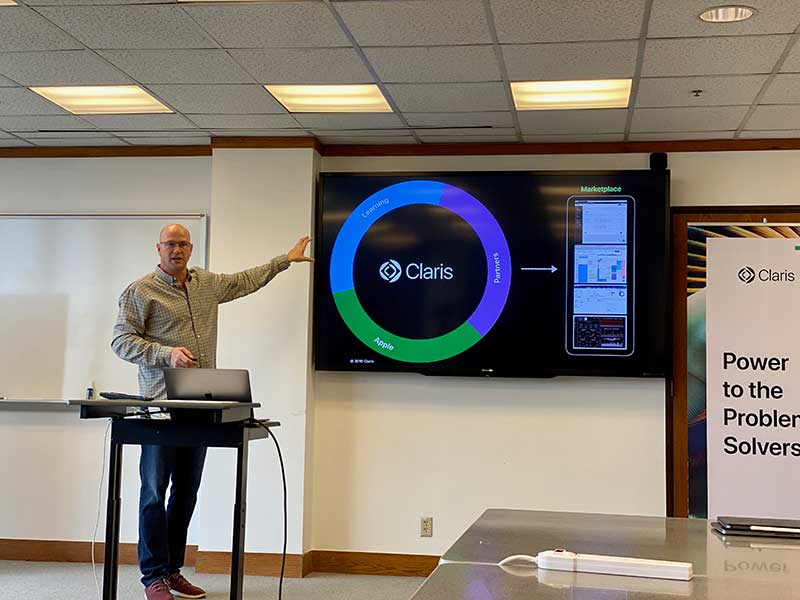 Opening Statements
When it was time for the event to start, we were ushered into the presentation room, where Brad Freitag, the CEO of Claris International, gave a short opening statement. He focused on the concept of digital transformation. As he described it, we are all currently in the second wave of digital transformation: "the first was moving from paperless, the second is moving to automation, integration, orchestration workflow…our goal is to make that available and affordable for small to mid-sized businesses throughout the world. We do that with both an on-premise and a cloud framework."
42 and Apple's Developer Academy
Brad also talked about Claris International's involvement with 42 and Apple's Developer Academy. "Our goal is to support and grow as many problem solvers as we can. […] As we look at millennials coming on to the workforce, digital natives, they are a lot more comfortable taking on this role, adopting technology, embracing it. […] We call this our path from learning to earning, and [we] are investing substantially here, for this is a big part of our future."
The Future of Claris
After wrapping up with a summary of the platform and the near future release of Claris Connect (formerly known as Stamplay before Claris International acquired it), Brad discussed Claris NextGen (all future R&D) and Claris' appreciation of development partners like Soliant Consulting as a vital part of the Claris ecosystem.
ALS Never Surrender Presentation
Nic Friedmen, CEO of ALS Never Surrender, presented next. ALS Never Surrender was founded by Steph Courdin, who was diagnosed with ALS in 2015. Nic explained that when Steph was diagnosed, the following conversation took place:
Steph asked the doctor, "What can I do?"
The doctor replied, "What do you mean? You have ALS…it's uncurable."
Steph said, "Well, is there anything I can do at all?"
The doctor responded, "Well, there's a survey; it's called ALS FRSR, which stands for Functional Rating Scale [Revised]. There are 12 questions, and you fill it out once a quarter when you go to your doctor."
Steph asked, "What else?'
The doctor concluded, "That's it. Good luck. I wish you the best."
Having worked in the tech field in "big data," Steph was shocked that there was no easy way to gather data to monitor the progression of the disease.
Creating a FileMaker Solution to Monitor ALS
Instead of taking a nice long vacation after his diagnosis, Steph called up all of his tech friends from college and his career, many of whom are now currently involved in ALS Never Surrender. One of the people he reached out to was his friend Brad Freitag, who naturally suggested he look into FileMaker. Steph dove into the FileMaker platform headfirst, teaching himself the technology and creating an app that tracks the progression of ALS by capturing over 80 data points from motor, speech, and breathing tests. The beauty of this app is that ALS patients do not have to wait until their doctors visit to complete a survey so data can be gathered. ALS patients will have the ability to complete these tests up to once to a day from the comfort of their own homes.
ALS Progression Evaluation in FileMaker
Nic explained that the 12 questions in the ALS FRSR are "a qualitative, subjective study, meaning how you feel that day affects the outcome of the questions." For example, some of the questions are (on a rating of 0 to 4): How can you speak today? How are you sleeping? How can you eat? Swallow? Hold a utensil? Walk? Go upstairs? And a few others.
You may notice that these questions are very subjective. Steph wanted to utilize technology to provide objective measurements of the progression of this disease. In combination with the incredibly small frequency of the data gathering, "When Steph looked at this, he realized the simple truth that he did not have an ALS problem, ALS had a data problem. And he decided to fix it." A common term in the ALS community is PALS: People with ALS. PALS will often refer to ALS as Always Losing Something: successively losing the ability to walk, talk, drive cars, and live. Nic explained, 'Steph Courdin said it stood for 'Always Learning Something.' And that's really what I want to talk about today, and how we can use technology to learn."
Future Goals of the FileMaker Application
The goal of this mobile app is to go much deeper than the FRSR, tracking over 80 different performance indicators; it will be freely available to all ALS patients globally. This will provide enough participants and data points to be both statically significant and high precision.
Currently, all ALS studies to-date are either one or the other, but none are both statically significant and high precision. "We have an international team," Nic explains, with team members in Israel, Canada [Kenek Health and Suva], Sweden [NuvoAir], and the United States. "These are some of the devices we are partnering with: We have a home spirometer [by NuvoAir] which tracks lung function at home and smart scales that track body mass to weight. We have a pulse oximeter [by Kenek Health] that tracks both blue and red blood coloration that shows pumping through the body or lack thereof, as well as heart rate or oxygen levels. We want to eventually start using the Apple Watch to track a lot of this data. And most importantly, Muse [by Suva], which actually measures brain waves of people under fatigue, duress, and fighting the neurological disorder. This is what technology looks like when you bring it to fight disease."
Planned Application Integrations
One of the most fascinating integrations planned for this application is with a company called Aural Analytics in Scottsdale, Arizona. On the FileMaker app, patients will record themselves saying pre-determined sentences, and the app will then send those recordings to Aural Analytics for analysis. This will allow for tracking speech degradation over time, which in turn tracks brain function degradation over time. I think we can all agree that this is much more accurate than asking, "How can you speak today on a scale of 0 to 4?" which is the current standard.
ALS Never Surrender was recently awarded a large grant that will allow them to run five clinical trials at Duke University, Harvard Medical, Bayer Neurological Foundation, UCSD, and the University of Colorado.
Nic concluded by saying, "The problem is that the world tells patients today that ALS is incurable, and there's nothing that can be done. Well, the ALS Never Surrender Foundation, Claris, and all of our partners, we see things differently. We see ALS as an underfunded disease, one that lacks large qualitative data sets. Steph said it best when he said, 'We want to take control of this uncontrollable situation by putting the power in the hands of the patients.'"
Our Work with ALS Never Surrender Application
Soliant Consulting has worked with ALS Never Surrender as part of the philanthropy efforts of our Humanitarian Committee. Steph first reached out to us in late 2018. We worked with Steph and his team on app cleanup and structural updates until Steph's passing in late March 2019.
Steph's determination to succeed lives on in Nic Freidman, the CEO and Steph's son-in-law, his daughter and co-founder Cubrina Friedman, his son Jerey Courdin, Director of Operations, and Ann Weiner, Director of Product Management.
It was an honor to finally meet this dedicated team in person and to be part of the movement to empower PALS throughout the world.
To learn more, please visit the ALS Never Surrender website.
To learn more about our work with ALS Never Surrender, please read our case study.