Today was the final day of DevCon, and it has an entirely different flavor. It is Customer Day! Rather than technical topics, the majority of today's sessions show-and-tell client stories of problems solved by utilizing FileMaker.
Success Stories of Soliant's Philanthropy Committee
The first session I attended began with a presentation by our own Makah Encarnacao. Makah shared her own story of a chance conversation with Chris Manto during DevCon a few years ago. Over a drink at the bar he shared his experiences in West Africa, working as a film journalist in his early twenties, when he witnessed horrific starvation and death, while all he and his team could do was use their vocation as journalists to tell the story. This serendipitous meeting inspired Makah to do something for others. With the support and encouragement of Bob Bowers, our CEO, Soliant's Philanthropy Committee was born.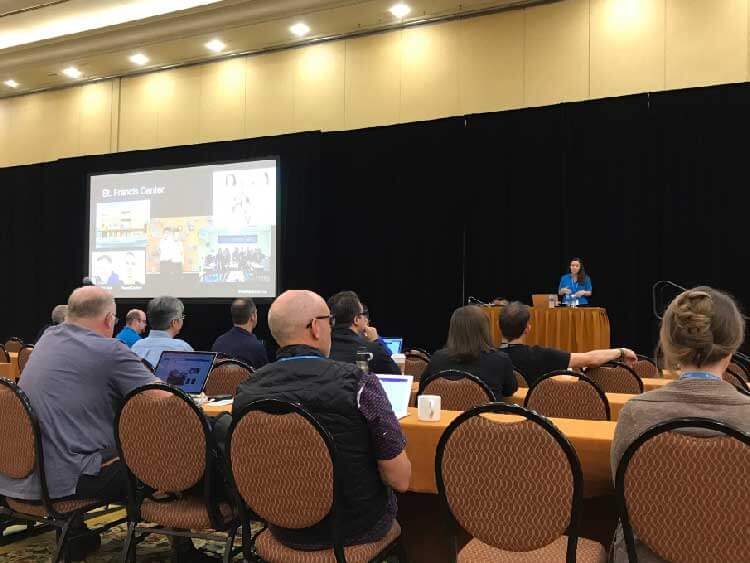 Our team of developers, business analysts, and project managers participate on a voluntary basis to provide services to non-profit organizations who otherwise could not afford custom software. The work is done in addition to their normal workload, often after hours and spans across all our practice areas: FileMaker, Web, and SalesForce. Together with Josie Graham, Makah vets the submissions and pairs them with the perfect volunteer.
Makah summarized the story of each organization: what they do, what they needed, how we helped, and the difference it made to their operation.
The Luke Commission
Operation Comfort
Rainforest Trust
Prince Albert Food Bank
St. Francis Center
Altadena Mountain Rescue Team
Researching Hope
Women's Alliance for Knowledge Exchange
These institutions do wonderful work, and now they are more effective, more efficient, more nimble with the help of a little expertise. I've never been prouder to be a part of the Soliant team.
Visionary Bar
I spent my refreshment break answering the questions in the Visionary Bar. The idea is for DevCon attendees to just walk-up to get answers and advise from FileMaker Business Alliance (FBA) members. I've done this for many years and always find it quite rewarding to help others.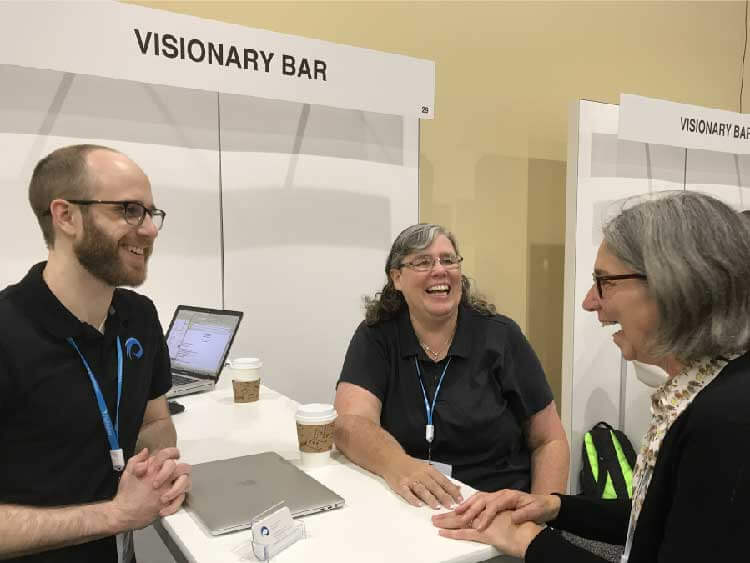 FileMaker in Action: Media and Arts Case Studies
For the second session of the morning, I saw fantastic examples of FileMaker used by two art and media businesses.
The first was Bryn Behrenshausen of Kalisher, a design house that creates and curates comprehensive art collections and has remote teams in six US cities. They have tons of information to keep track of: customers, designers, purchasers, owners, specs, pricing, and employee 100+ people. At the time Bryn joined Kalisher in 2014, Soliant Consulting had already built them a solution for managing their projects, quotes, vendors, and suppliers. Bryn shared his story of learning FileMaker development and now has built several modules of his own as well as refresh the original solution. He then shared some great tips for newer developers such as "Be Consistent with schema naming and script structure." It was great to hear Bryn's story.
Matt Greger presented the second portion of the session. He shared how FileMaker was utilized to manage the tv spot traffic for 30 years for "As Seen on TV", the company who brings you those great infomercials for Flex Seal, Snuggie, Copper Fit, and so many other products. It was a fantastic example of something I've seen many times: FileMaker can be a fantastic hub for data. In Matt's solution, FileMaker pulls-in data from a variety of sources including Google AdWords, Amazon, Facebooks, YouTube, Microsoft Bing Ads, and tv vendors. The data is processed and aggregated and then accessed by analytic tools Tableau, Power BI, and TIBC Jaspersoft.
Lunch Networking
During lunch, I met with Mike Zarin. Mike attended my Wednesday presentation "Tackling Sync." He approached me following the session and asked if we could chat about the sync requirements for his project. It was great to hear about Mike's project and make suggestions for easier ways to solve his data posting needs.
As the meal progressed others joined our table. We spent the remainder of the time sharing our story about how we got started using FileMaker. Several of us had been developing in FileMaker for more than 20 years while others were relatively new.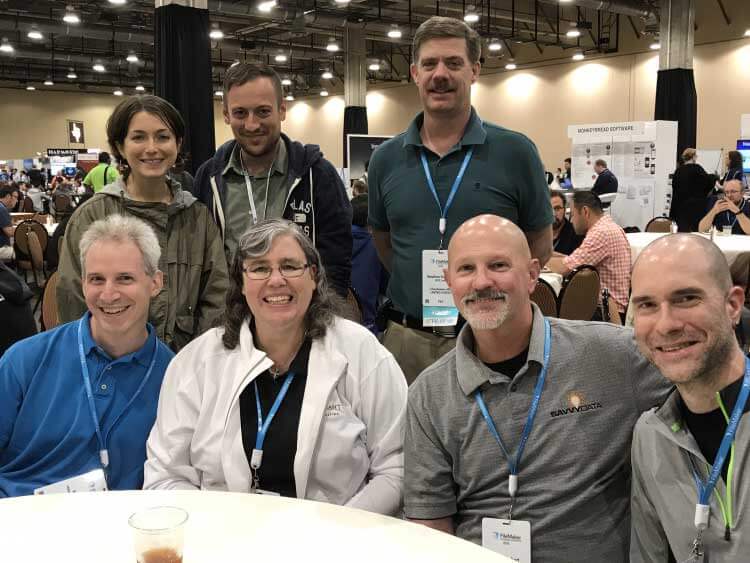 From One to Many: Growing Your Consulting Firm
Following lunch, I switched tracks and attended one of the FBA Day sessions. David Knight, the president of Angel City Data, presented a great session on growing your business. I especially liked David's message to "Learn to let go!" It's not stealing the boat; it's rowing the boat when you don't let go.
Closing Session & Awards Presentation
I was thrilled that the Women of FileMaker were awarded a FileMaker Excellence Award for their work in the community! This year, the Women of FileMaker provided scholarships so five first-timers could attend DevCon this year. They've created a Mentoring program and organized a Buddy program to pair DevCon first-timers with a seasoned pro to help attendees find their way around the conference. I can recall attending my first Women of FileMaker luncheon many years ago. There were maybe twenty of us eating at the hotel's restaurant. This year there were several hundred DevCon attendees at the luncheon. The growth of this group has been tremendous!
This year Soliant Consulting was an honorable mention for the Excellence Award for education, an award we won in 2017.
During the closing session the location for next year's DevCon was also announced:
FileMaker Developer Conference 2019
August 5–9, 2018
Gaylord Palms Resort
Kissimmee, Florida
This year was my 19th consecutive DevCon, and each one is exciting, tiring, and inspiring. I returned with new ideas and determined to learn even more. I love seeing my friends from around the world and my Soliant family from around the country. Hope to see you there!