After a busy first day of FileMaker DevCon 2018, day 2 continued the theme of FileMaker being a Workplace Innovation Platform.
FileMaker + Tableau, a Match Made in Data Heaven!
The morning sessions included an eye-opening Tableau integration session from Vincenzo Menanno. In his session, Vincenzo demonstrated how one could use Tableau charting and graphing tools inside a FileMaker WebViewer and subsequently use Tableau's URL Actions, to call specific FileMaker scripts within your solution, which provided a seamless integration between FileMaker ("The Data Curation Tool") and Tableau ("The Data Slicing Tool").
Under the Hood: FileMaker WebDirect Scalability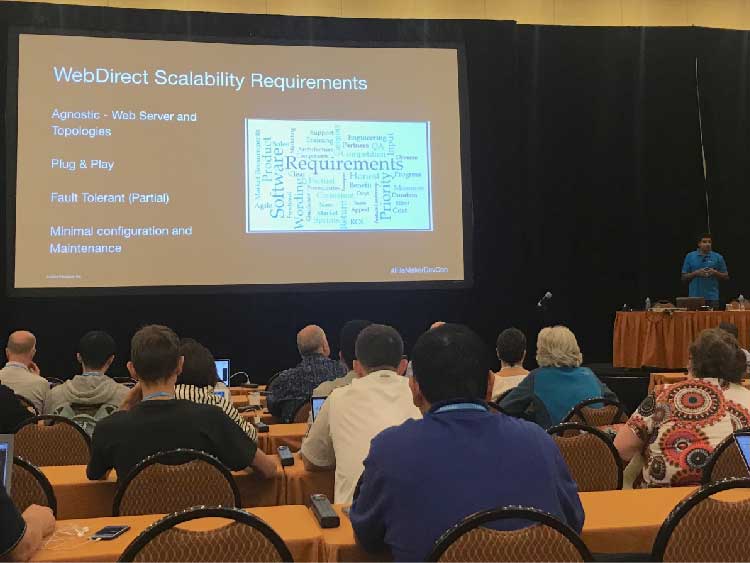 The late morning sessions continued with Emmanuel Thangaraj's session. This session was great for learning the inner workings of FileMaker Server 17's Multiple Web Publishing Engine (MWPE) and FileMaker Load Balancer (FLB), which increases the number of users that WebDirect can support and enhances server stability at the same time. I find I always come away from FileMaker's "Under the Hood" sessions with something new and tangible that I can apply to my development projects.
Data Cleansing for Data Managers and Consultants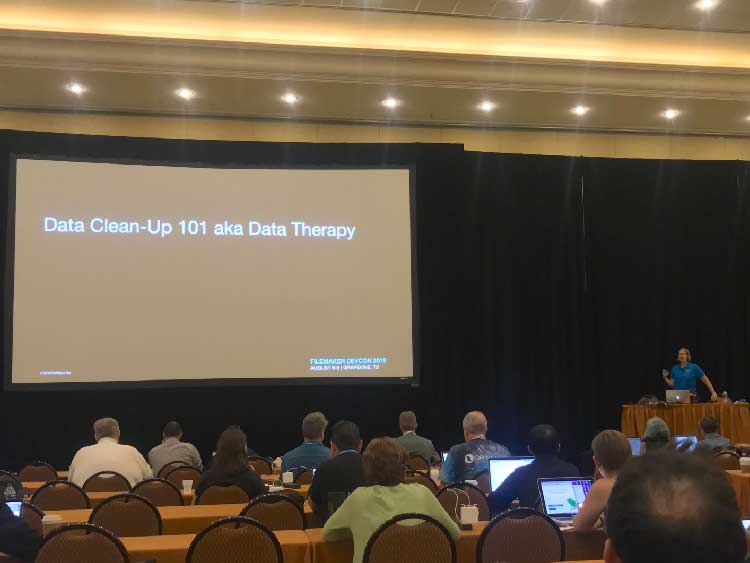 Following a delectable lunch, Molly Connolly had an insightful session on using FileMaker to scrub bad data from dispersant data sources. Using FileMaker's calculation and scripting capabilities, Molly walked users through how to cleanse text formatting in specific fields and from spreadsheet data. This session was excellent for beginner and intermediate developers, and Molly organized her presentation in a linear way that built upon each technique that she has used over her many years of experience.
Under the Hood: Data Migration
My second "Under the Hood" session of the day (did I mention I love "Under the Hood" sessions?!?) was with Clay Maeckel on FileMaker's new Data Migration Tool. Earlier this year I wrote a blog post on this tool. He went into detail about the internal implementation of this tool and provided clarity regarding the Rules of Schema Matching between your source and clone files, and explained how this tool could be so fast at migrating your data to a new production file. Clay is one of the original authors of FileMaker's Draco engine (he started working for FileMaker the year I was born!) and his experience shined through in this session.
Tackling Sync
Later in the afternoon, our very own Dawn Heady presented her session, "Tackling Sync." Dawn started with focusing on five specific strategies for designing your sync solution: such as minimizing historical data, pre-populating the mobile app data, and pushing actions to server side when possible. She then discussed three scripting methodologies for completing a sync, which can be completed using import script step, transactional scripts, or web services. Dawn then uncovered how to use an external data source on the server using a global variable. What a creative solution to this challenge! Next, she demonstrated a working transactional sync solution that will be included with the session materials. From there, Dawn went into well-known FileMaker Sync solutions and discussed their setup process, along with the benefits and drawbacks to each.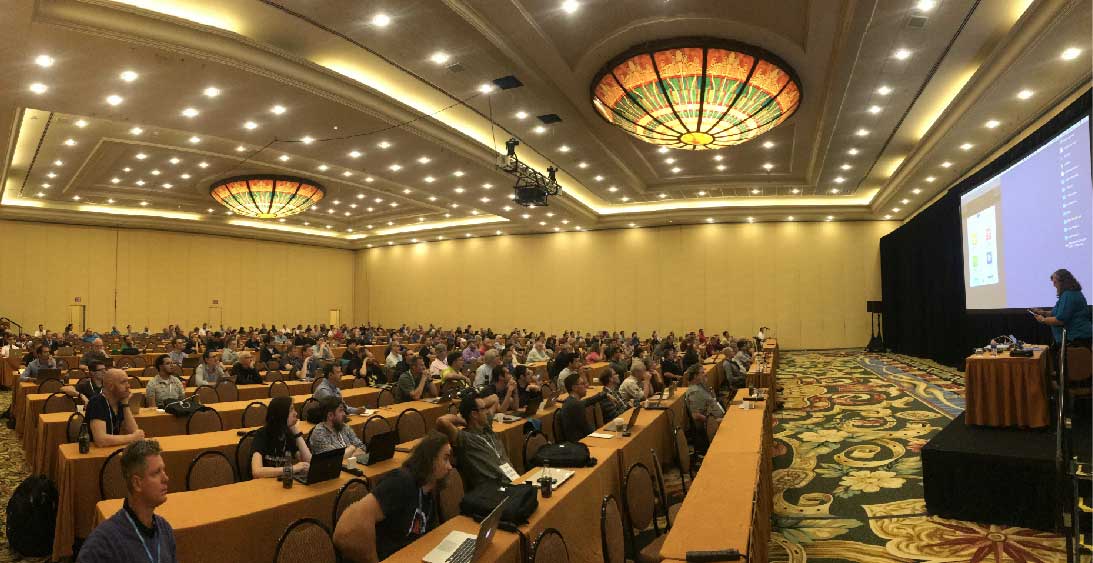 Attendee Dinner Party
After our Wednesday sessions, we went to the Attendee Dinner Party and had a wild Texas time! A live band with line dancing lessons, billiards, darts, and ping pong were some of the highlights from this event. Overall, this has been one of my favorite DevCons yet. The variety and polish of sessions have been so impressive and inspiring. The food has been consistently delicious with the bacon being truly remarkable, and I'm a man that knows good bacon.
I'm looking forward to what the final day of DevCon can bring to inspire us to create innovative workplace solutions.