Welcome to the first post in our series on digital transformations – and how successful transformations can help your organization respond rapidly to shifting market and regulatory demands.
Digital transformation is the buzz-phrase of the day – or yesterday – depending on when you are reading this.
What is it anyway? Let's start with the basics.
Definition of Digital Transformations
You have probably heard the term used in multiple ways.
Brief history: Although the digitization of business processes began in earnest about 30 years ago, information technology did not begin permeating nearly every aspect of business management, including in the widespread evolution of new business models, until the early 21st century.
Today, some researchers and practitioners argue that digital transformations have to be sustainable, improve profitability, and impact the enterprise level.
Gartner analysts, however, make a clear and forceful distinction between digital transformations and digital optimizations, maintaining that transformations require a change in revenue and business model while optimizations decidedly do not. [1]
Most can agree that:
Digital transformations must fundamentally improve business results through technology
Digital transformations are driven by strategy and growth targets more than by technology
Change management is a vital part of success
There is a difference between digital disruption and digital transformation
Organizations must undergo digital transformations often to survive
Why is this important to your organization?
You might be thinking:
"Our IT department just upgraded our financial system. Why would we allocate more budget to technology?"
Or
"My business is not tech-related. This doesn't apply to me."
With disruption across industries accelerating at an unprecedented rate[2], all organizations must invest in technology. Yet, narrowly focusing on upgrading one technology platform upgrade will not increase your competitiveness.  Instead, take a strategic view with the goal of creating sustainable organizational agility that allows you to continuously evolve.
The oft-cited "constant change" in today's complex business environment compels leaders to transform both strategy and operations.  As a 2017 Couchbase study found, businesses from across the vast majority of industries are doomed to last only five years before going out of business or being absorbed by a competitor if they do not undergo digital transformation[3]
In 2020 we have all observed how the ability to operate and offer value digitally drives organizational agility. Adaptability is more important to organizations now than at any point in history.
In fact, an organization's ability to adapt and respond with agility has been shown to provide a distinct competitive advantage – with agile organizations outperforming their competitors by more than two to one (pre-COVID).[4]
However, study after study shows that somewhere between 80-95% of digital transformations fail.[5],[6]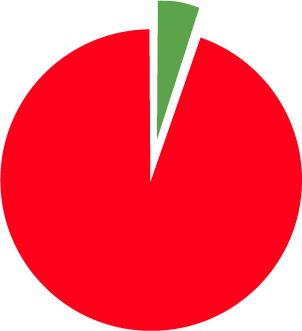 That's an incredibly low success rate. What actually works?
What can you do to ensure that your transformation is successful?
At Soliant, we have developed 5 Pillars of Digital Transformation to help our clients overcome common challenges.
The foundation of our methodology involves leveraging "cloud" technology. Ah, another buzzword! Again, let's start with a simple definition.
As an Amazon Web Services (AWS) Select Consulting Partner, we have found the AWS definition of the cloud to be simple and to the point:
On-demand delivery of IT resources via the internet
Pay-As-You-Go pricing
Access from anywhere at any time
At its core, the cloud is about achieving organizational agility. Digitally transforming your business operating model, processes, and systems in the cloud, with the appropriate governance mechanisms in place, allows you to:
Significantly lower IT costs
Flex with changing customer, employee, and regulatory needs
Scale your technology up or down at a moment's notice
Reduce complexity of onsite IT operations, infrastructure, and security
Avoid licensing, procurement, and install delays
Improve security
In short, cloud computing allows organizations of any size to have the capabilities, flexibility, functionality, and reliability that only elite corporations have had access to in the past – at a fraction of the cost and time-to-market. Remarkably, most organizations achieve a 51% average reduction in total spend over five years of using cloud services.[7]
Further, today's business environment requires technology that combines speed, flexibility, and evolving services with excellence in quality control and regulation compliance. Leaders must strike a balance between organizational agility and governance. For many, a shift, replatform, or refactor of their digital systems in the cloud enables both.
Conversely, a cloud-first strategy is not always the answer. Hybrid solutions often make more sense, especially in the initial iterations. After performing hundreds of transformations, we have developed a thoughtful, time-proven process based upon the following pillars and in alignment with the AWS Well-Architected Framework.
If you've already moved some or all of your systems to the cloud and have implemented a governance model that works for you, remember to continually keep an eye on cost optimization. It's easy to set up services and fail to disengage them when they are no longer in use. Our certified cloud engineers can help with monitoring and automation to keep your cloud lean. Otherwise, read on to discover evidence-based principles you can leverage to produce performance gains.
5 Pillars of Digital Transformation Explained
1. Strategic Alignment
When planning a digital strategy, the most effective approach is to work toward a future vision rather than focus on the consequences of past events. That's why it's imperative to involve business leaders in your digital transformation project in the initiation phase as well as throughout the entire project.
First, map a business strategy that takes into account both internal and external factors as well as how the possibilities of the cloud can improve profitability and innovation.
Keep in mind that as the world continues to roil with unexpected changes at a disquieting pace, continually scanning the external environment for potential threats and opportunities should be a routine aspect of your business strategy – not a one-time endeavor.
Achieving organizational agility in today's turbulent environment requires a governance structure that allows you to constantly monitor the environment and adapt to it. Many leaders think that requires a reactionary approach, fear they will veer too far from their founding vision, or imagine instability creeping into the foundation of their business. In a later post in this series, we'll discuss how implementing a scenario planning routine to continually prepare your business for multiple possible futures can increase your ability to adapt quickly to environmental shifts while protecting your core business and avoiding change fatigue.
In this iteration, after identifying an up-to-the-minute business strategy, the next step is to overlay the technologies and services that will help you achieve your strategic objectives. A resilient technology strategy creates a balance between commitment to your current business strategy, organizational agility, and cloud governance.[8]
2. Fundamental Alteration
As discussed, digital transformations must intrinsically improve business results through technology.
Further, intrinsically improving business results often requires fundamentally altering business models, processes, and capabilities.
Given that such fundamental alterations come with significant risk and expense, the decision to make an intrinsic shift is often a matter of survival that requires excellence in governance processes.
The four remaining pillars outline how to handle the risks, control the costs, instill continuous change routines across your organizational culture, and enable your business not only to survive but thrive.
3. Governance
When dealing with such high stakes, an executive sponsor – who will champion governance in the following areas across all digital transformations in your organization – is essential:
Establish an aspirational purpose
Provide risk and cost oversight
Ensure compliance with appropriate rules and regulations
Perform an inventory of all digital initiatives to build a working portfolio shared with all stakeholders and in which gaps and overlaps are identified
Perform rapid, routine ranking and prioritization of the portfolio using a repeatable process such as the Analytical Hierarchy Process (AHP) that includes ranking projects against strategic objectives, feasibility, and organizational agility
Measure the impact of each transformation at important milestones and after full execution
The executive's main role, however, is to remove blockers and to enable positive results so that organic movement and innovation occurs across teams. To encourage the latter, identify a team of change managers that can support the executive sponsor in building awareness and commitment to your governance model and each transformation in your portfolio.[9]
4. Iterative & Data-Driven
This all sounds complicated and time-consuming, doesn't it? That's why we focus our delivery roadmap on identifying iterative milestones so that we can bring measurable value fast.
Getting to the cloud is different for every business, though the evaluation and planning process is repeatable. After identifying your digital strategy using an agile process that includes gathering qualitative and quantitative data, identify the minimum viable cloud (MVC) to achieve that strategy, activate all stakeholders to work toward that MVC, celebrate the win, and charge on to the next MVC.
From a technical perspective, we recommend starting with low-risk workloads such as:
Development and test environments
Backup processes and storage
Proof of concepts
Net new cloud-native apps
5. Co-Creation & Collaboration
Unlike with many line-of-business application enhancement projects or existing hardware/network upgrades, fundamentally transforming aspects of your business in the cloud requires a cultural change.
Cultural change must occur at the organizational level, the department/team level, and the individual level simultaneously. And that takes structured collaboration.
We design participative workshops that invite structured collaboration. The first step is to include participants from across Finance/Accounting, Strategy, Customer Success, HR/People, Governance, and IT (depending upon the size and structure of your business). Then, using large-scale change methodologies, draw input from diverse forms of knowledge, expertise, and perspectives to produce resilient plans.
Your iterative action plan should include not only technical and project management tasks, but also change management and governance activities.
Okay, but what specific aspects of a cloud transformation require cultural change?
Below are a chart and an example that outline the core differences between on-premise IT environments (or even legacy box-in-the-cloud data center hosting) vs. modern cloud environments.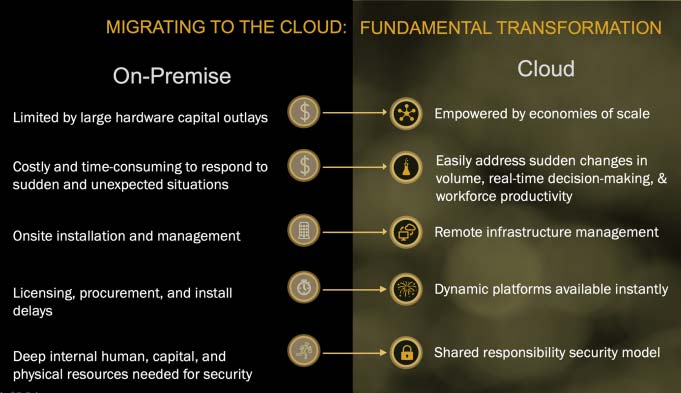 For example, let's take a look at a mid-size manufacturing company that currently manages its own small data center on-premise. Many years ago, the IT Director, Cory, worked diligently with the maintenance department to set up a properly sized server room, keep it cool, develop physical and procedural security measures, and put in extensive monitoring. Getting the server room in place was a huge project she was very proud of accomplishing and was quite successful. She won the trust of her business partners by building a solid foundation to enable their daily operations. Though the business is humming at a steady pace, there hasn't been much budget available for IT hardware/operations projects since then. Cory and her team have been focused on keeping the lights on and improving efficiencies within their software systems.
Suddenly, this past month, the company began experiencing an unexpected rise in demand for its products – that may not last for more than six months. To meet the current demand, the Manufacturing Operations team needs to connect IoT devices on two of the product lines in order to gain more efficiencies. Cory knows that her current hardware setup won't be able to handle the data volume and that she'll need to take advantage of cloud services to efficiently produce valuable insights for the business.
She quickly sketches out a technical MVC. She could purchase expensive new hardware, possibly expand the physical room, increase the cooling capacity, update security procedures, and gain approval for a large sum to cover it from the CFO outside of the annual budgeting process. Or, Cory can instead spin up an Amazon Simple Storage Service (Amazon S3), configure AWS IoT Analytics, connect the new IoT devices, make sure her network can handle the data – and she's off! Since the AWS pricing is pay-as-you-go, Cory has enough remaining in her budget to handle the first month, and Manufacturing Operations will cover the remainder of the year once it's in production.
Cory's quick thinking solves this one challenge – on paper. However, the specter of more complex issues rises around her practical analysis:
She's not an expert at AWS; she's been taking some training, but…what if something goes wrong? What about training for the two system admins on her team who haven't worked with AWS before?
What about the other ten production lines – will they need to be integrated as well?
Who on the maintenance team has the expertise to manage all of the IoT devices? Will training be provided?
What about budgeting for next year? How will this change the IT budgeting process and thus, the larger organizational budgeting process?
Who will be responsible for analyzing the data, who should receive the reports, and what should the reports look like?
Will any of this data be made available for our customer's benefit?
Have enough security measures been put in place to manage the many security threats for IoT devices?
How can we prepare to continually adapt as demands change? What if this new level of demand does drop in 6 months? And then goes back up in another year?
What else is she missing?
Cory realizes an executive sponsor is needed to help her govern these complex organizational issues. She gets up from her desk to head over to her boss's office and start the conversation. But first, she sits back down and calls her trusted advisor at Soliant Consulting to talk through the possibilities and risks and make sure she's on the right track.
As you may have surmised, the cultural aspects of digital transformation are often the most complicated. Stay tuned to this series for more information on how to execute cultural change (and much more).
Or give us a call today to find out more now. Our roadmapping service guides clients through the planning stage of cloud transformation projects, no matter where you are on your journey, to produce iterative, adaptive results that align with your strategy, result in high ROI, and meet the needs of your customers and employees. We've helped hundreds of organizations successfully digitally transform their businesses and would be delighted to partner with you on the next stage of your journey to create sustainable organizational agility
References
[1] Prentice, B. (2018). Digital Business Transformation Strategy Needs a Change of Perspective [Video webinar]. Gartner http://public.brighttalk.com/resource/core/188773/mar28_bprentice_393543.pdf Retrieved March 28, 2018.
[2] Digital Transformation Projects Continue To Be At Risk, Couchbase Research Finds Couchbase.com https://www.couchbase.com/press-releases/digital-transformation-projects-continue-to-be-at-risk-couchbase-research-finds Published 2019. Retrieved August, 2020.
[3] Is the data dilemma holding back digital innovation? Couchbase.com https://info.couchbase.com/rs/302-GJY-034/images/2017_CIO_survey_results.pdf Published 2017. Retrieved August, 2020.
[4] Worley, Christopher and Pillans, Gillian: Organization Agility, Corporate Research Forum, 2015; Worley, C., Williams, T., and Lawler, E. The Agility Factor. Wiley/Jossey-Bass, 2014.
[5] Kane, G., Palmer, D., Phillips, A., Kiron, D., & Buckley, N. (2015). Strategy, not technology, drives digital transformation. MIT Sloan Management Review, Massachusetts.
[6] Most Digital Transformations Fail, Here's How to Change That. CEOworld.biz. https://ceoworld.biz/2019/03/30/most-digital-transformations-fail-heres-how-to-change-that/
[7] Carvalho, Larry and Marden, Matthew: Fostering Business and Organizational Transformation to Generate Business Value with Amazon Web Services IDC White Paper, February 2018.
[8] Worley, Christopher and Pillans, Gillian: Organization Agility, Corporate Research Forum, 2015; Worley, C., Williams, T., and Lawler, E. The Agility Factor. Wiley/Jossey-Bass, 2014.
[9] Hiatt, J. (2006). ADKAR: A model for change in business, government, and our community. Loveland, Colorado: Prosci Learning Center Publications.
Further Reading:
Are you prepared for your digital transformation?: Understanding the power of technology in organizational change. Tomorrow's Challenges. January, 2014. Michael Wade and Donald Marchand.
Auriga (2016) Digital transformation: history, present, and future trends https://auriga.com/blog/2016/digital-transformation-history-present-and-futuretrends/Retrieved March 28, 2017.
Cameron, K. S., & Quinn, R. E. (2011). Diagnosing and Changing Organizational Culture: Based on the Competing Values Framework. Hoboken: John Wiley & Sons, Inc.
L.-P. Baculard, L. Colombani, V. Flam, et al., "Orchestrating a Successful Digital Transformation," Bain & Co., Nov. 22, 2017, www.bain.com.
Karkošková, Soňa & Feuerlicht, George. (2016). Cloud Governance Lifecycle. Acta Informatica Pragensia. 5. 56-71. 10.18267/j.aip.85.
Mohamed Zain, Raduan Che Rose, Iskandar Abdullah, and Maslin Masrom. 2005. The relationship between information technology acceptance and organizational agility in Malaysia. Inf. Manage. 42, 6 (September 2005), 829–839.
Obwegeser, Nikolaus & Yokoi, Tomoko & Wade, Michael & Voskes, Tom. (2020). 7 Key Principles to Govern Digital Initiatives. MIT Sloan Management Review. 61. 1-9.
Organizational Agility as a Strategic Imperative. Prosci.com https://www.prosci.com/resources/articles/organizational-agility-strategic-imperative., August 2020.
Schallmo, D. R. A., & William, C. A. (2018). Digital transformation now!: Guiding the successful digitalization of your business model.
Vargas, R. V. (2010). Using the analytic hierarchy process (ahp) to select and prioritize projects in a portfolio. Paper presented at PMI® Global Congress 2010—North America, Washington, DC. Newtown Square, PA: Project Management Institute.
Vey, Karin & Fandel-Meyer, Tanja & Zipp, Jan & Schneider, Christian. (2017). Learning & Development in Times of Digital Transformation: Facilitating a Culture of Change and Innovation. International Journal of Advanced Corporate Learning (iJAC). 10. 22. 10.3991/ijac.v10i1.6334.