The Background Story
The partnership between Salesforce and AWS officially began in June 2016 when Salesforce selected AWS as its preferred public cloud partner with the aim of bringing infrastructure online more quickly and efficiently.
Then in June 2021, the two forces announced an expansion that included the seamless deployment of AWS's voice, video, and AI services within the Salesforce 360 platform as well as a host of other capabilities. These included cross-platform access to data, pre-built connectors for AWS services in Salesforce, and support for modern micro-services architecture.
Today, with Salesforce's acquisition of Mulesoft (2018), Tableau 2019), and Slack (2021) combined with over 200 services offered by AWS, the integrated platform capabilities enable unparalleled businesses innovation for businesses worldwide.
What makes the evolving collaboration between Salesforce and AWS such a win? It bridges the gap between two platforms used by SMBs and accelerates digital transformations for companies seeking a competitive edge.
Pre-Expansion Services
AWS and Salesforce are two giants in the field of cloud services that have long-offered essential capabilities to SMBs to accelerate their business growth. With nearly 50% of SMBs worldwide having reported using a cloud-hosting/infrastructure service in 2021, most SMB leaders are familiar with what AWS offers: a pay-as-you-go model for IT infrastructure like servers, storage, networking, and remote computing; as well as over 200 other services like analytics, AI/ML, IoT, mobile development, and security. Notably, AWS' microservices, distributed systems, and serverless application services are driving the evolution of modern application architecture.
Salesforce, the global leader in CRM with an ever-expanding platform of products, chose AWS as their preferred cloud partner because they are the recognized leader in the field. In fact, in 2021, for the 11th consecutive year, AWS was named as a leader in the Gartner Magic Quadrant for Cloud Infrastructure & Platform Services. AWS has also been named a leader in multiple other categories for many years running, such as for Cloud Database Management Systems and for Contact Center as a Service.
Not to be outdone, Salesforce was named as a leader in 9 Gartner Magic Quadrant categories in 2021, including for CRM Customer Engagement Center for the 13th year in a row.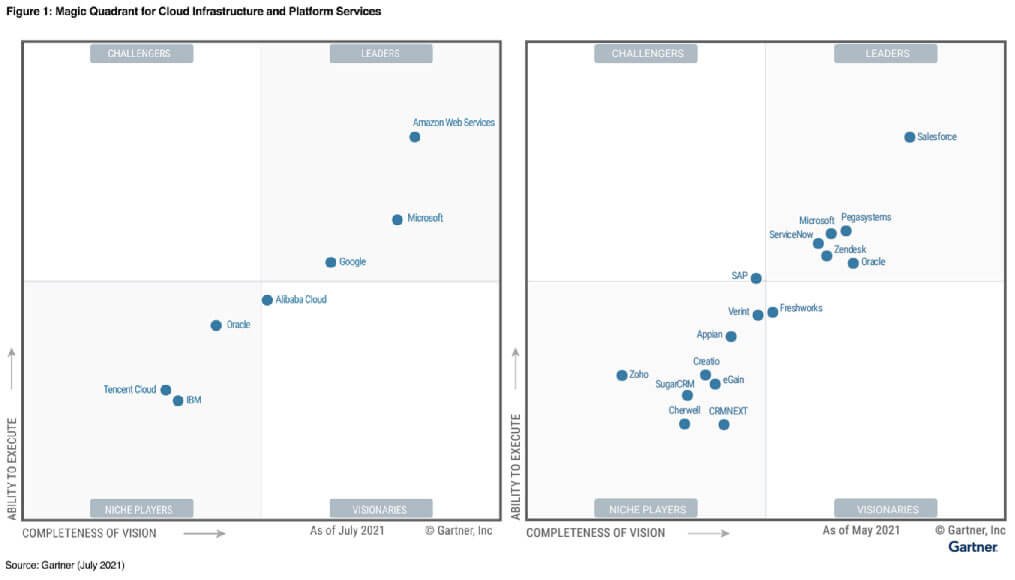 Before the platforms evolved their partnership, the custom code necessary to bridge the gap between them was costly and time-intensive. Now, SMBs find that a host of new opportunities are available with seamless integration.
Added Services with Partnership
SMB leaders and the developers supporting them benefit from the cross-platform availability of data and services that results in effectively unlimited computing resources and application services. You can now use a combination of both technology platforms to build and launch business applications, easily use AWS services in Salesforce, and securely connect data and process flows across both Salesforce and AWS. This feature set unlocks new capabilities, including:
AI-Powered Call Centers
Sometimes you just want to reach out and talk to somebody. Service Cloud Voice (SCV) proves that the phone isn't obsolete. This turnkey solution for AI-powered call centers gives agents real-time omnichannel visibility, boosts agent productivity, and provides phone system options.
A new opportunity with this partnership seamlessly integrates Salesforce SCV with Amazon Connect. This integration empowers contact center leaders with a full suite of tools to enrich customer service capabilities. For example, within SCV, you can now use Amazon Connect services such as voice transcription with sentiment analysis to get real-time insights into the conversations your teams are having with customers.
Customer Data Analysis
SMBs have the ability to collect and learn from more data about their customers than ever before. Salesforce & AWS make it easier to extract data from your Salesforce CRM and upload it into Amazon Redshift, a cloud data warehouse. You can upload not only Salesforce data but data from virtually any data source into Redshift. Once that data is cleaned and normalized, your developers can easily provide insights from information across your business operations, customer demands, and vendor constraints.
Amazon Redshift now also comes with Amazon Redshift ML. This allows developers to use machine learning directly on the data stored in Redshift. Learning about and improving your business with AI has never been more attainable.
Run Serverless Operations
The seamless integration between Salesforce and AWS allows for the activation of AWS Lambda calls from within Salesforce (using a sequence of configurations that you can read more about in the Salesforce and Amazon Web Services Integrations whitepaper here). AWS Lambda is a powerful modern tool that allows developers to run operations that once required a full server setup without any server at all.
Embedded Voice, Video AI, and ML
Another cool new feature is the ability to embed AWS services for voice, video, AI, and machine learning into Salesforce's applications for sales, service, and industry verticals. This capability creates exciting new opportunities for businesses, especially in accelerating digital transformations.
Developers can now create unified intelligent applications that employ artificial intelligence and machine learning faster and more simply. Pre-built applications with out-of-the-box use are also ready for launch. For example…
New Applications Available
On top of the potential for swifter development of applications, businesses have access to a whole new suite of pre-built applications that harness the combined power of AWS and Salesforce. SMBs will find these tools invaluable for optimized operations, increased data security, and streamlined deployments. These include:
Private Connect and Amazon AppFlow
This feature set allows users to create secure, bi-directional connections between Salesforce and AWS.
Government Cloud Plus
Government Cloud Plus is a dedicated instance on Salesforce 360 that was built specifically for public sector organizations to comply with strict security and regulatory standards. It provides a platform to launch new, modernized applications with the click of a mouse without complex code.
Intelligent Documentation Automation
Designed specifically for businesses operating in healthcare, financial services, and the public sector, this app uses AWS Textract to automate the digitization of documents. It provides the ability to quickly extract content from tables, forms, pages, and even handwriting.
Tableau on AWS
Salesforce's popular and powerful data visualization tool, Tableau, benefits from running on AWS in the following ways:
Reduced costs using the pay-as-you-go model
Increased performance
Increased security
No need for an IT team to manage servers
MuleSoft and AWS
Mulesoft Anypoint Platform provides a single platform for all of the integrations your applications may need to make. SMBs can use Mulesoft to connect AWS services and apps without the box connectors and other reusable assets.
Salesforce, Slack, and AWS Combine to Automate More Workflows
Staying competitive in today's business environment requires automation. Whether an SMB is focused on rebooting their digital workplace solutions, providing better call service insights, or adding security to their data storage, the integration of Salesforce, AWS and Slack has unlocked new possibilities and ease of set up.
For example, the help desk ticketing system just got a little smarter. The three big tech companies have built integrations that significantly improved the ticket resolution process. Now, AWS Chatbot connects with Slack Workflows to automate the creation of trouble tickets in Salesforce. This results in lightning-speed response times and happier customers.
Deploy Anywhere with Salesforce Hyperforce
The last area we'll explore under services integration is Salesforce Hyperforce. Hyperforce infrastructure architecture provides customers with the ability to deploy Salesforce Customer 360 with the agility of a public cloud. It gives organizations a range of in-country storage options to meet evolving industry and regional regulations. Hyperforce is hyper-secure, with enhanced controls and end-to-end encryption. Hyperforce was built with scalability and backward compatibility in mind. Developers can migrate business systems with confidence that the integrity of legacy custom apps and integrations will be retained. As your organization grows, Hypeforce will allow you to scale your technology quickly.
How an AWS/Salesforce Partner Helps Your SMB
AWS and Salesforce, two of the biggest tech companies, offer hundreds of services. Navigating them can be overwhelming or unmanageable for SMBs. Adopting new business services is a big decision, and that's why it helps to partner with a technology consulting firm that has a depth of knowledge about the services offered and expertise in guiding leaders to leverage technology to grow their businesses.
Partner with Soliant to Unlock the Benefits
Teaming up with a trusted technology partner is essential to better understanding how the AWS-Salesforce partnership can unlock opportunities. Our Salesforce and AWS consultants help you identify which business areas would most benefit from the various services available and in what combination.
Soliant Consulting is an experienced partner that delivers solutions designed to transform the course of your business. Reach out to Soliant today to explore your options.