In 2014, Soliant began a yearly tradition. On the fourth Monday of each April our Chicago office hosts, "Take Your Kids to Work Day." Employees bring their children to the office to bond with them and to expand their kid's career horizons. In addition to this event being a fantastic learning experience for the kids, Soliant sees this as a great opportunity to have team engagement in the office.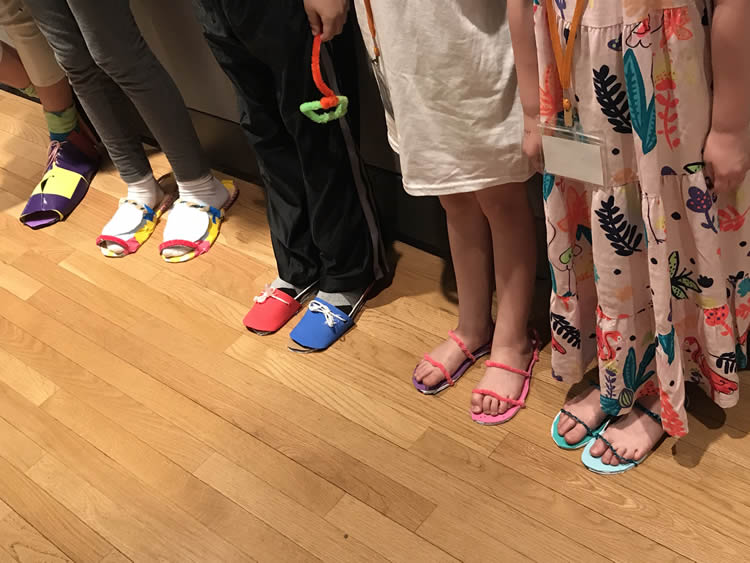 We have a committee that helps plan the event in advance to ensure the children not only shadow their parents but also engage in skill-building exercises. Our goal is to expose the kids to new things each year, so we are always coming up with different activities. Parents and family members also participate in the planning process; they help us brainstorm the activity options with information about their child interests.
Kick-Off Meeting with our New Team
This year, we had a day full of activities planned. We kicked off the day with breakfast and orientation. The first activity planned for the day was to review the positions at Soliant. We explained the different departments and what each person is responsible for in the organization.
To make it more fun and illustrate Soliant's roles, we gave each child a passport and a map. They had to follow the map to find stations around the office to learn more about our team members' roles and responsibilities. Once they learned about each position, they received a passport stamp.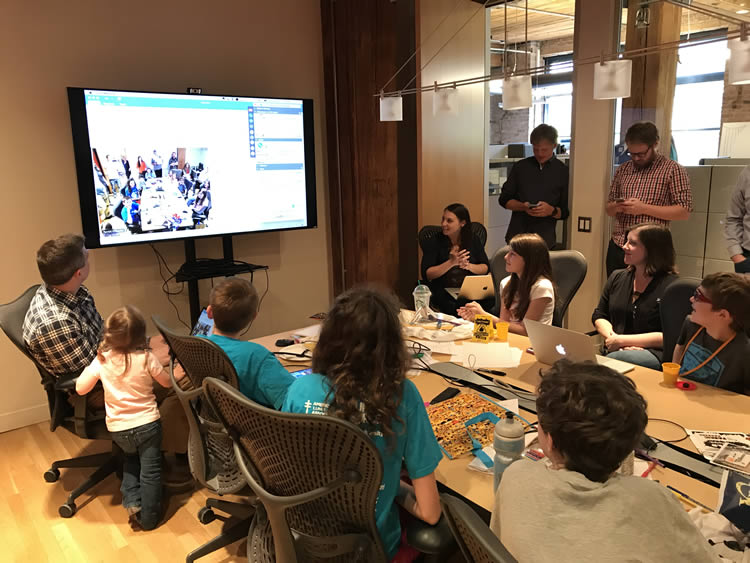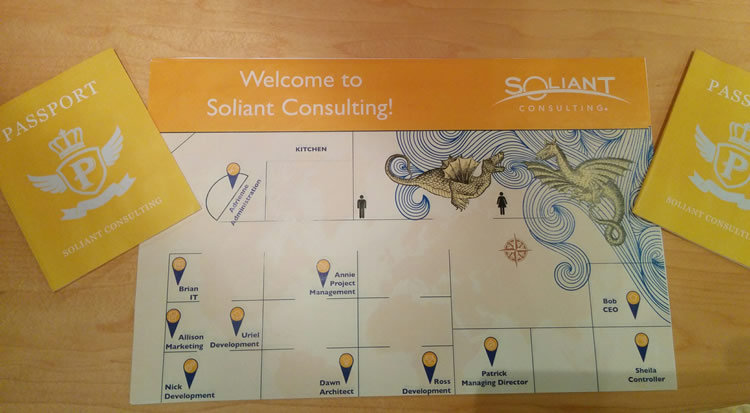 Engineering Challenge
Next, we gave a presentation about the engineering design process. We explained the series of steps that one must repeat to develop or improve a product, process or system. We split the teams into age groups for a simple coding exercise. Our goal was to make this experience as interactive as possible so no matter what age, they would be able to engage and learn.
Soon enough, it was time for the lunch break. Since the weather was nice and sunny, lunch took place at our rooftop. Pizza seemed like a win-win menu choice for adults and kids; besides, we wanted to keep the little ones fueled for the afternoon activities.
In the afternoon, we had more activities focused on engineering; the kids had to design and create a pair of shoes that could successfully undergo several challenges. The shoes would be tested for comfort and efficiency, and go through several challenges: jumping, walking and stair climbing. Each challenge had a point system, and the goal was to achieve the most points.
Wrapping up Another Awesome Take Your Kids to Work Day
Before the day ended, we asked the children to fill out a time sheet. It was a good exercise to recap the day. The day ended with an evaluation from the kids; we always want to encourage feedback. This year we had tons of fun with the kids and added another successful "Take Your Kids to Work Day." We hope the hands-on experiences gave new skills to the kids and helped them better understand Mom and Dad's workday. We're already looking forward to next year!