Keeping up with new Salesforce functionality can take a lot of time and effort! At Soliant, we regularly keep an ear out for impactful new features that can transform the Salesforce experience for our clients. To save them and you time, we've compiled a list of seven noteworthy features in the Summer 2017 release.
1. Lightning for Gmail Inbox
I rarely indulge in hyperbole, but Salesforce just "blew my mind" with this new feature. Lightning for Gmail finally seamlessly connects Salesforce to your Gmail inbox without requiring an AppExchange application.
Now you can use the Lightning Inbox sidebar to see all records related to each e-mail, identify potential new Salesforce contacts, create new related records, and prioritize your responses in the Salesforce One mobile inbox application. This is going to make life much easier for sales and marketing representatives in your organization.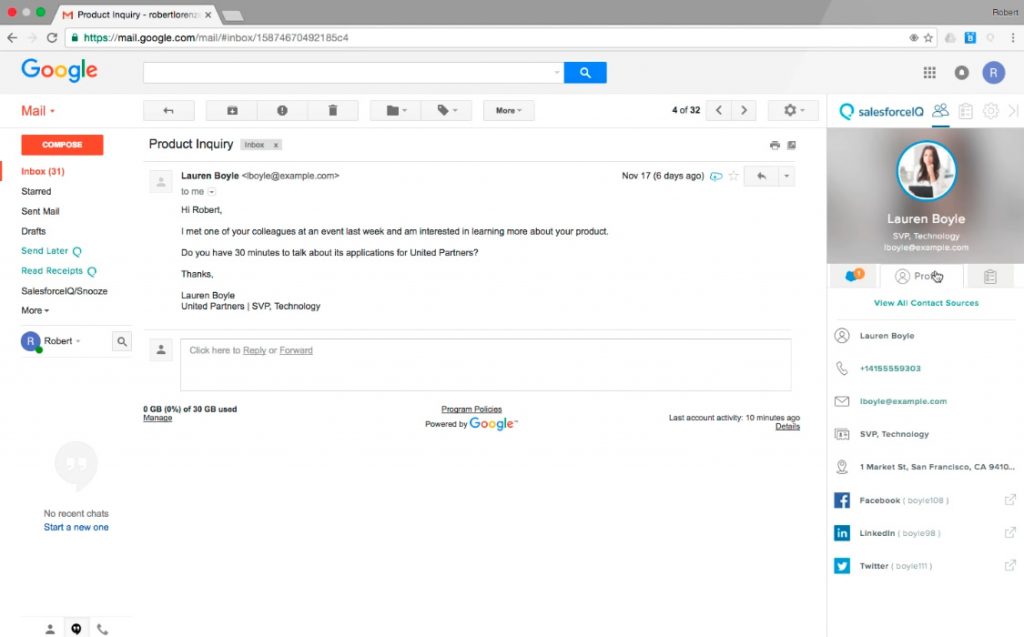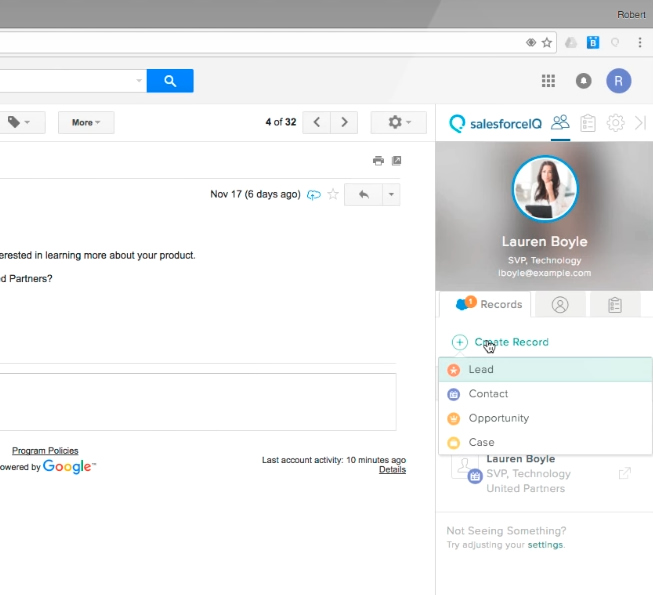 You must go through several steps to set Lightning for Gmail up, and it's only available on Chrome. To get started, navigate to "Setup," search for "Lightning for Gmail," and follow the outlined steps.
2. Lightning "Insert Availability"
If scheduling numerous meetings makes up most of your day, you're going to be thrilled with the new "Insert Availability" option in Salesforce. This feature connects your email directly to your Salesforce calendar.
To start using its functionality, select 'Insert Availability' When you start an e-mail. This allows you to choose dates and times from open slots in your calendar to offer as available for a meeting with your correspondent.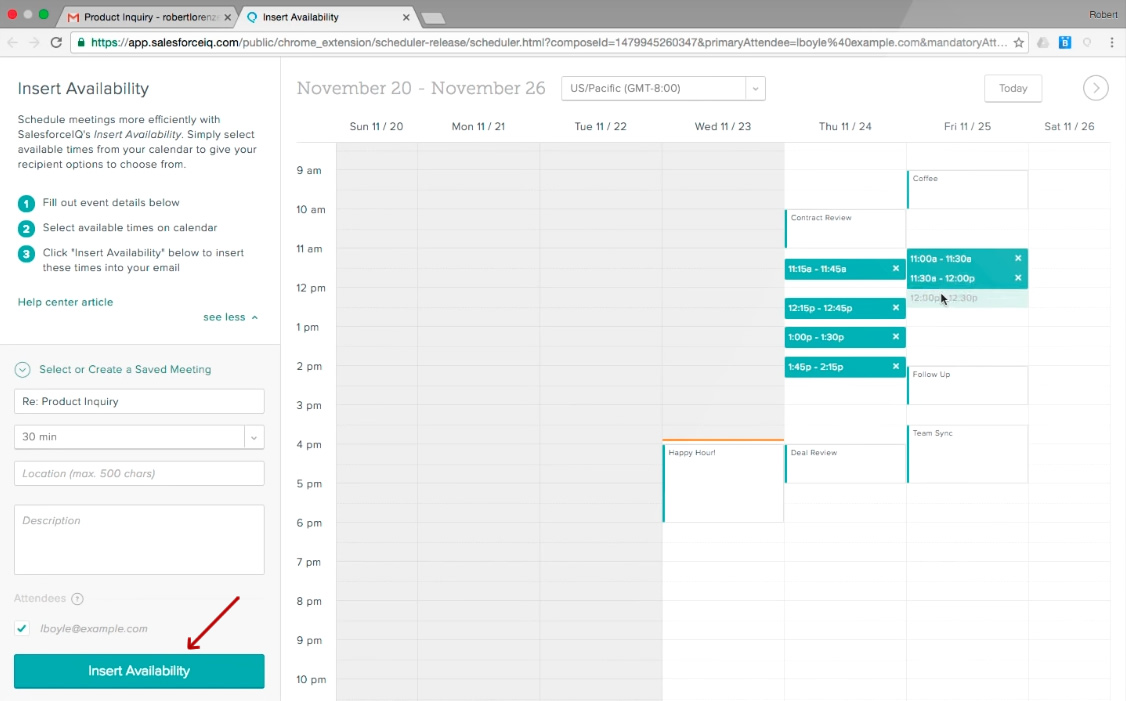 Here's the best part – if one of those options gets taken before your correspondent responds, s/he won't see that option in the e-mail – no back and forth required! You can leverage this feature from both a laptop or a mobile device, perfect for team members on the go!
Note: this feature is available at an extra cost as part of the new "Salesforce IQ" features.
3. Maintain Related Records When Converting a Lead
This handy new addition improves upon the already efficient "three for the price of one" record creation feature Salesforce offers through its lead conversion functionality. Now you can view the entire history of an Account, Contact, and Opportunity without navigating to separate records. This will save your team time and cut down on the frustration associated with skipping around from window to window when piecing together information about specific contacts.
You don't need to do anything to enable this feature; it's already activated in your Salesforce implementation. Enjoy!
4. Duplicates Check
Prior to Summer 2017, Salesforce had already released a very useful native feature to help prevent creating duplicate leads (in the Leads area) and duplicate contacts (in the Contacts area). However, the Summer 2017 release introduces a default "cross-object match" to build upon its functionality. The feature runs a check in your contacts when you create new leads, and vice versa!
This powerful addition will be a tremendous help to those organizations who work with high-volume or fast-moving customer data. Their team members will save a great deal of time from not having to run multiple checks for the same customer or prospect.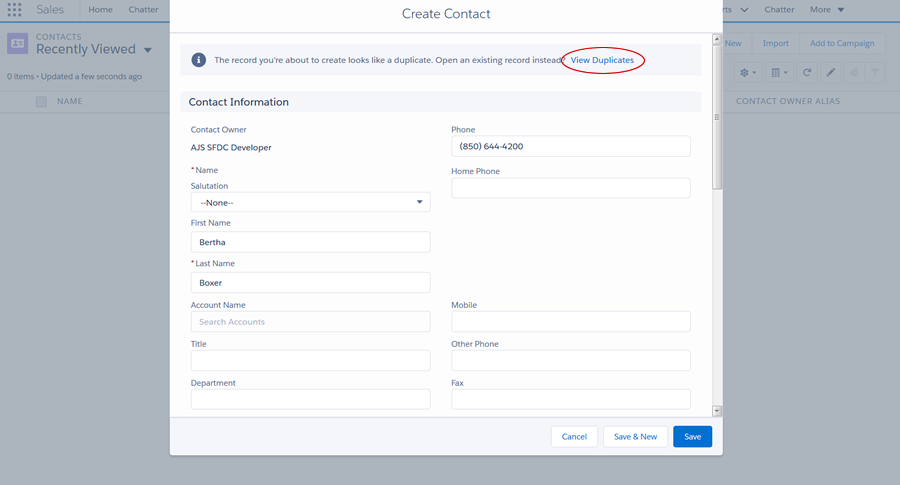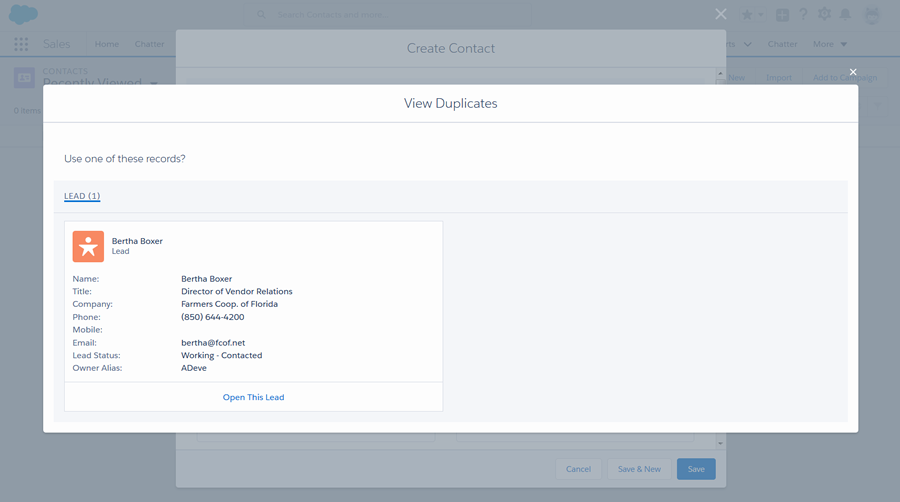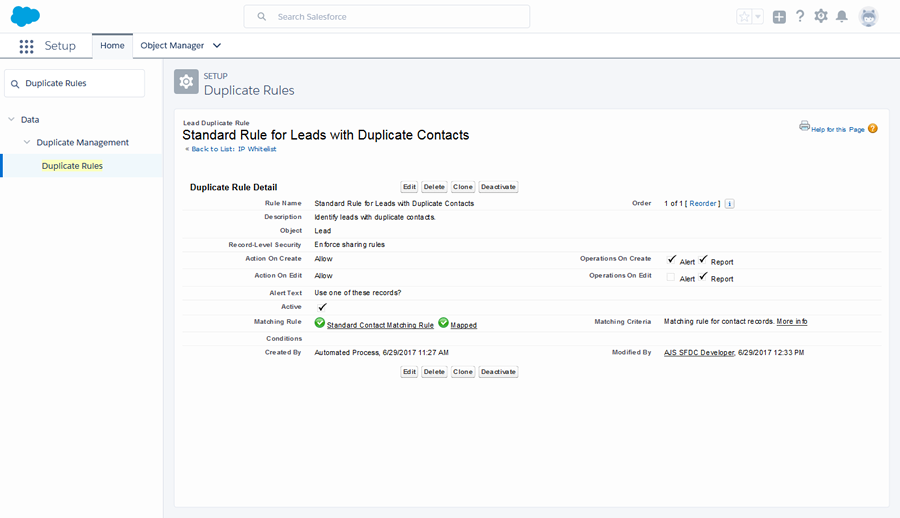 To enable it, navigate to Setup – Duplicate Rules:
5. Activity Timeline (Lightning Only)
In Summer 2017, Salesforce makes it easier than ever to view all the actions you take with a Lead, Contact, or other object and look ahead to what's coming next. With the new "Activity Timeline" feature, you can view details of activities like calls, e-mails, meetings in the order they occurred, with all important details right at your fingertips. You can then view your next steps in context. The "Filter Timeline" option lets you hone in even further to analyze certain timeframes or types of activities.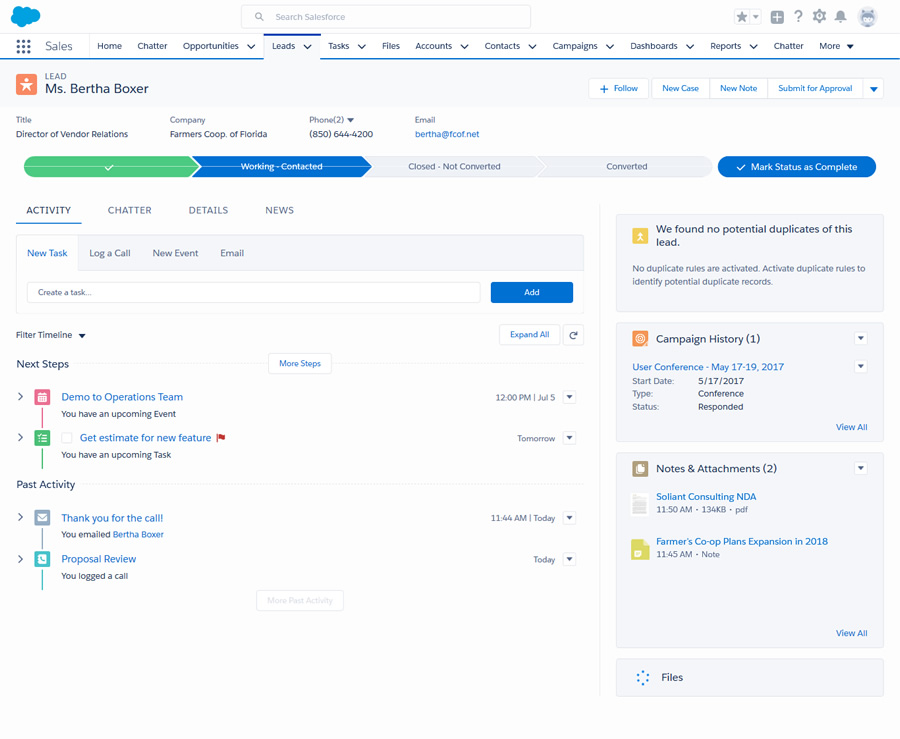 6. Keyboard Shortcuts for Lightning
For those of us "old school" technology superusers who grew up mastering keyboard shortcuts to make things happen "lightning" fast, Salesforce has just introduced new record-level keyboard shortcuts to its Lightning Experience.
Windows Keyboard Shortcuts
Global
Shortcut
Navigation
Shortcut
Show this menu
Ctrl + /
Go to publisher
G+P
Save
Ctrl+S
Edit
E
Search
/
Open or close Notes
N
Close or deselect
Esc
Post to feed
Ctrl+Enter
Mac Keyboard Shortcuts
Global
Shortcut
Navigation
Shortcut
Show this menu
Cmd + /
Go to publisher
G+P
Save
Cmd+S
Edit
E
Search
/
Open or close Notes
N
Close or deselect
Esc
Post to feed
Cmd+Enter
Now you can search for, edit, save, and close a record all from your keyboard. For team members looking to squeeze more time in their day, this is a major perk. Review all potential shortcuts here.
7. Promote Picklists to Global (for Admins)
While we're always on the lookout for features our clients will find useful, we can't help but be excited when Salesforce turns its attention to Admins. Simple new features can make Salesforce setup easier and allow us to spend more time with our clients and less time in front of the screen!
With this recent release, Salesforce introduces a simple and obvious new feature – "Promote Picklists to Global." As you build up your Salesforce org, you probably often find yourself creating a picklist that you'll need in other spots in your org. Rather than kill your momentum to navigate over to the "Global Picklists" area, you can now simply continue creating your picklist and then click "Promote to Global Value Set" to make it re-usable. It's that simple!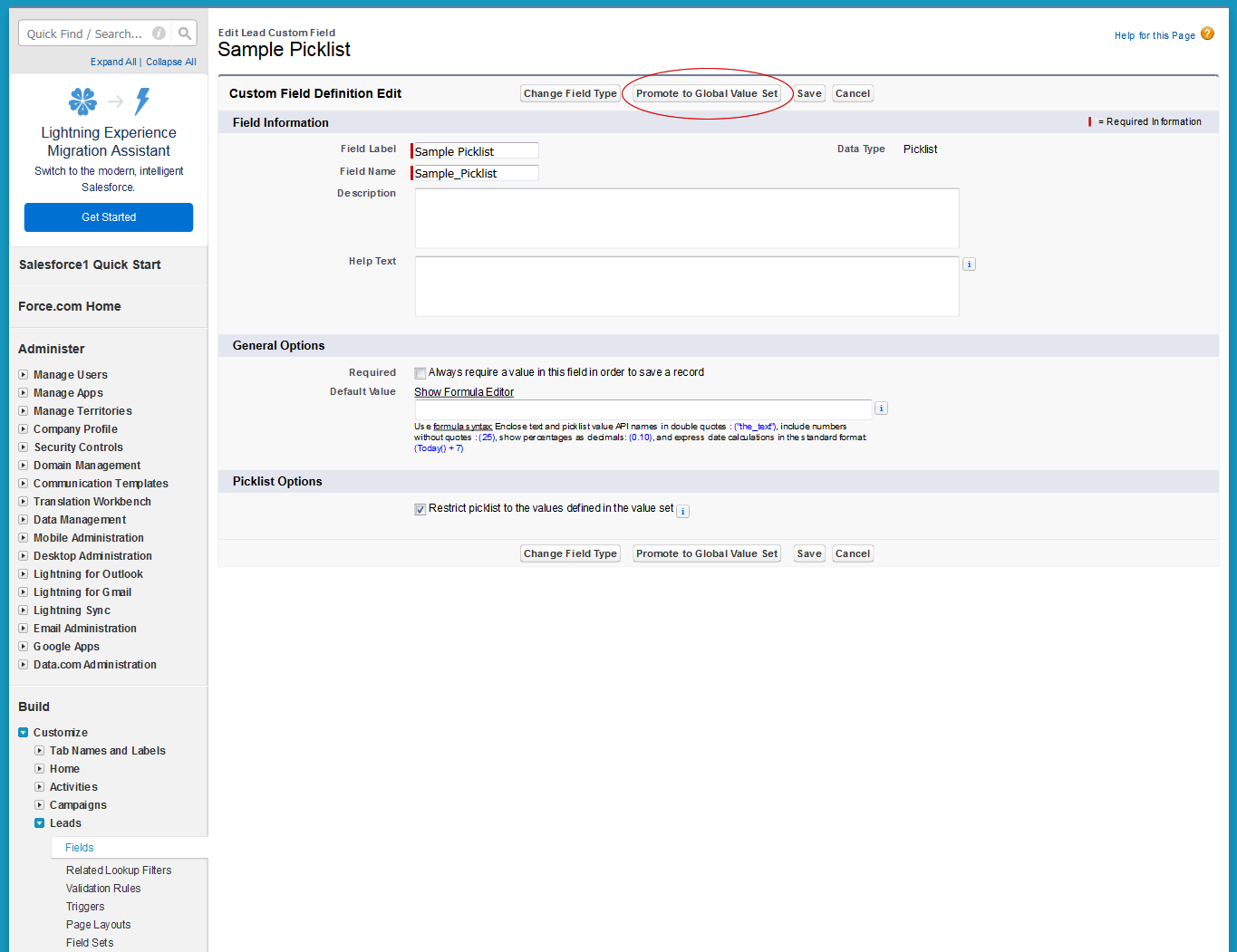 Put Your Salesforce Changes in Motion
Of course, these seven features are only scratching the surface of Salesforce's new capabilities. For the full list of features in the Summer 2017, check out Salesforce's official release notes.
If you have questions about how to put these, or any other new Salesforce features, to use in your organization, our team would love to help. Contact us today for more information.