Ever looking in your IDE and see a key binding like this

for some super cool function you want to use?
Well, not that it matters, but it so happens that is the "End" key on an extended keyboard, which is arcane enough, but what if you're on a laptop keyboard?
What matters most is how can you press that key?
Here's a great tip Tim Villaluz and I just figured out in case any of you don't already know this.
Open System Preferences and choose Language & Text:

Enable Keyboard & Character Viewer as an Input Source:
This gives you a little icon in the Menu Bar which gives you access to the Keyboard Viewer:

If you open that up it gives you a live preview of what every key will type when you hold down modifiers. As it turns out, when you press the fn (Function) key on a Mac laptop, it turns back and forward arrow into Home and End keys from the extended keyboard, but more to the point, you don't have to worry what they're called, they show the same symbol that the keybindings use in your IDE.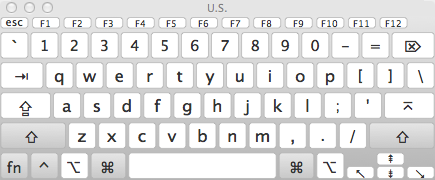 Nice!