Today was going to be the first "real" day at Dreamforce. Registrations were already complete and sessions were full at the crack of dawn.
I took my time getting up to try and be relaxed for the days to come. I got ready for the day and started it with a typical breakfast and coffee from Starbucks before heading on the trek to officially begin my day.
I go to my typical "go to" place (Moscone West) to browse through the area as I check my schedule and see if there are other sessions during my day that might be more useful. While I am in the developer zone, I notice a session going on that piques my interest called "JavaScript Promises with JavaScript Remoting and Visualforce Remote Objects". The speaker keeps the audience entertained with pictures of Indiana Jones every few slides and giving the different parts of his talk titles that go along with that theme. Promises seemed useful because they provide front end developers a more streamlined way of processing asynchronous code. From there the talk went into a little more detail on how to apply it to different situations such as when you are using JavaScript Remoting.
Time for a Break
After this session, it was already about lunch time so I headed on my way over to Yerba Buena Gardens. Somehow I ended up above the gardens with an amazing view over a fountain. Below the fountain were the open gardens with the rest of Dreamforce milling about and eating. Past that was the St. Patrick's Catholic Church flanked on either sides by tall modern buildings. It was a very relaxing and warm lunch as I sat there alone just taking in the atmosphere and music I could hear in the distance.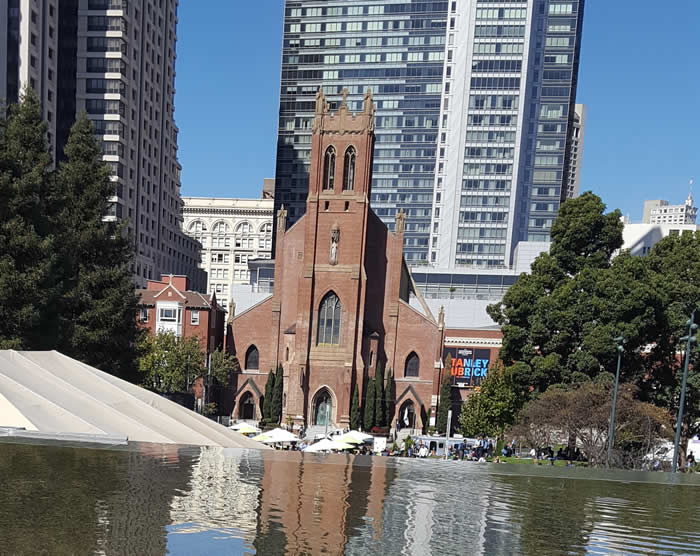 From there, I had some time until some other sessions I was interested in so I worked on getting three 'mini-hacks' done so that I could get those sweet sweet prizes Salesforce was raffling off as a reward to five people who managed to complete three or more hacks. These prizes included a laptop and a drone that I was disappointed to not be one of the lucky few to receive later in the day.
It turns out I had spent more time there than intended and missed a session I had planned but noticed a session about the new compiler. This session was more of a 'nice to know' session that explained their approach to the Salesforce compiler design and hurdles they have in order to keep previous versions of apex code running alongside newer versions. It was definitely a very informative session and I'm glad that I went.
After leaving this session, I noticed that the keynote was being played on the large screens and joined in to watch that. Benioff was introducing members from large organizations who were strong partners with Salesforce but the one that stuck out to me the most was Fitbit. I had no idea the ways Fitbit was using Salesforce in such powerful and simple ways.
The session just finished and I get a tap on my shoulder. It was a co-worker from an old workplace. We caught up on some happenings and made plans to go out the following night with some other co-workers before we both had to run off to get to more exciting sessions that we wanted to learn more about. The next sessions I joined was "Advanced Designs for Reusable Lightning Components" in which I had another coworker already waiting for it to begin when I arrived. This session was really helpful for me to learn how the different parts of lightning components interacted.
I then go back to my hotel room to relax a few minutes before going out to have a few drinks and dinner with other co-workers and another client of ours. Eventually I make it back to my room satisfied with my day.
---