We continuously evolve Soliant.cloud to provide you with more advanced capabilities available at any time from anywhere. Our latest release centers on new self-service features accessible via our FileMaker hosting platform. This December 2020 update significantly increases ease of use, granular control over your hosted FileMaker instances, and your server's security and reliability.
Self-Service Portal Updates
From within the Soliant.cloud self-service portal, you can now:
View and mount SnapBack volumes
Modify the size of your Amazon Elastic Compute Cloud (Amazon EC2) volume used to host your application
Reboot an Instance
Restart the Data API
Restart WPE (Web Publishing Engine)
Restart FMSE (FileMaker Scripting Engine)
In addition, you can easily navigate between all of your available instances (if you have more than one). By default, your administrator account will have the privileges required to access all of these new features.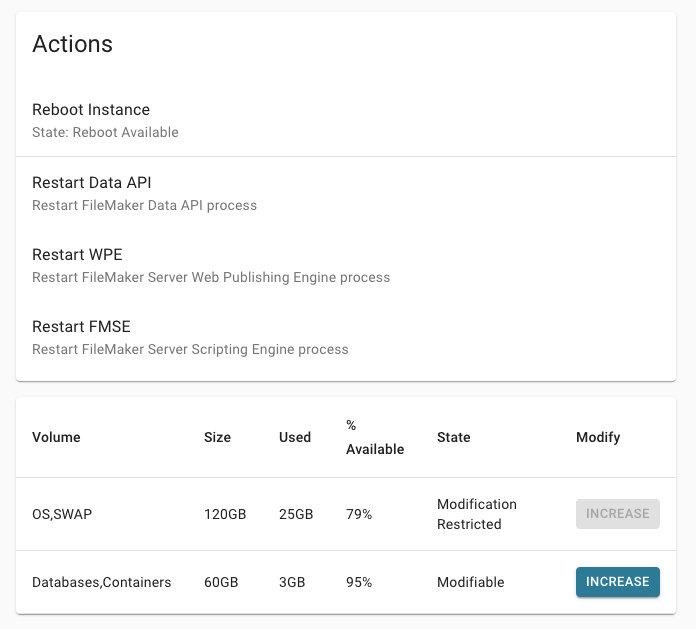 To provide you with anytime, anywhere insights into your server instances, we now display the below details on the portal:
Server version, for both FileMaker Server and OS
AWS instance size, region, server time zone settings
Time of the last reboot
Given the extensive control and detailed information the latest release provides, we are also rolling out new account management permissions. You can now assign specific team members to user accounts that only have access to billing management – and not to reboot your business-critical instances. You can request additional user accounts for your Soliant.cloud client portal by contacting support. The additional accounts can be configured with permissions to manage FileMaker Server Actions and/or manage billing information.
To meet the needs of work-from-anywhere teams, we've designed and developed this self-service portal as a responsive web app. That means it is fully functional when accessed from either a desktop web browser or a mobile web browser, so you can manage your FileMaker server from your home, office, or VRBO.
Claris Supported FileMaker Platform Versions
As an enterprise-class service, Soliant.cloud runs only Claris, Inc. supported FileMaker Platform Versions. We are dedicated to providing best-in-class infrastructure for running your FileMaker driven applications. Our team keeps your servers up to date with the modern security, reliability, and scalability improvements Claris, Inc., continues to provide with each release.
End of Life for FileMaker Cloud for AWS
Claris, Inc recently announced End of Life for FileMaker Cloud for AWS. If you currently host your FileMaker applications on FileMaker Cloud for AWS (previously known as FileMaker Cloud 1.x), you need to plan to migrate to another server. See the end-of-life notice on the product availability and compatibility knowledge base page for more details.
If you are planning a migration to another server, consider moving your application to Soliant.cloud. As both Claris FileMaker Platinum Partners and AWS Select Consulting Partners, our team of certified engineers designed Soliant.cloud as an enterprise-class hosting platform built on AWS and optimized for Claris FileMaker.
Use the referral code FMC1EOL to get a special discount when requesting a quote.
Why Soliant.cloud?
Since Soliant.cloud provides professionally provisioned and configured server instances, transitioning your existing hosted application is easy. The best practices we have put in place, such as proper server configuration, monitoring, SSL setup, and comprehensive disaster recovery (DR) strategy, make moving a deployment simple. Since we have automated much of the deployment process, setup is incredibly fast (if you are on a currently supported version of the FileMaker platform).
SnapBack Technology
While many of the infrastructure benefits may not be apparent to the end-user or developer, when the time comes that you must restore your business-critical system, the advantages become immediately apparent. With Soliant.cloud FileMaker hosting, you get what we call a "SnapBack" once an hour every 24 hours – 7 Daily, 4 Weekly, and 3 Monthly by default. You can customize these for your business' DR strategy requirements as well as schedule and run traditional FileMaker Server Admin Console backups. Any self-service FMS backup schedules are captured in the SnapBacks.
SnapBacks also include other critical FileMaker Server data to fully encapsulate all aspects of backup and recovery:
Documents Folder – \FileMaker Server\Data\Documents
Scripts Folder – \FileMaker Server\Data\Scripts
Extensions Folder – \FileMaker Server\Database Server\Extensions
Web Folder – \FileMaker Server\HTTPServer
Any scheduled or manually run FMS Admin Console Backups.
More SnapBack Features:
"Mount" a SnapBack – Mounting a SnapBack will dynamically create a new volume from the selected SnapBack, attach it to your instance, and reveal all file and associated container data via a secure FTP site. You can then download any of that data through a resilient FTP session.
Point-In-Time Restore – Alternatively, we can assist you in performing a Point-In-Time restore. This is most useful for large solutions. Whether your databases are 1 GB or 1TB, the Point-In-Time restore takes only minutes to restore your entire server.
For example, let's say you have a 100+ GB application consisting of multiple FileMaker files and external container data. You have encountered a business need to revert to the previous hour backup. Instead of selecting, mounting, and downloading 100+ GBs and then re-uploading (which can take a considerable amount of time), we simply replace the volumes and restart the services. The difference is vast – a few minutes vs. several hours of downtime.
With SnapBacks, your entire solution is backed up in an instant. You don't have to worry about the time required for writing out data to a volume. That can be expensive on particularly large solutions with more traditional backup processes, in which the time to back up files can be burdensome, even on fast SSD volumes. In Soliant.cloud, we host large client solutions approaching 500 GB in total file size with no performance or latency issues. Our clients can back up the entirety of their FileMaker file set in an instant, without any connected users even noticing that it occurs.
In terms of costs, since we only store data that has changed since the last backup, the associated costs for retaining so many backups are minimal. We store backups as Amazon S3 objects, which cost much less than volume space.
From a DR perspective, you can rest easy knowing that the S3 storage is redundant across all data centers, or availability zones, in the particular AWS region in which your system is hosted.
Optimally Configured Hosting
Soliant.cloud evolved from a service we offered to our own clients, acting as their trusted advisor. As such, we adhere to the provided guidelines for provisioning a FileMaker Server. In addition to the decades of experience that we have in configuring servers for our clients, we also keep an eye on the latest technology advances to continuously improve our services. The result is better service at reduced costs for our clients, allowing you to exceed in the marketplace and concentrate on your business while reducing your total cost of ownership.
Part of that ongoing improvement involves reducing manual configuration wherever possible. By automating processes and leveraging infrastructure as code, we reduce the margin of error, which produces a consistent, reliable environment that we can enhance at scale.
As an informed decision-maker, you have most likely looked into other FileMaker hosting providers. Other providers do offer an entry-level hosting alternative at a seemingly lower cost. However, do keep in mind that this is achieved by under-provisioning server instances with inadequate resources (under minimum requirements specified by Claris) for memory, CPU, and disk space. That under-provisioning results in slower performance for your users and applications that do not meet specifications. This, in turn, can require additional time and costs to troubleshoot application issues that could more easily and cost-effectively be remedied by a properly provisioned and configured server. Claris, Inc.'s specifications are established to account for many necessary resources that consider operating system and services-level usage. Both the OS and subordinate services require additional resource overhead to maintain operational integrity.
Without a properly provisioned server, the lack of overhead resources will, over time, cause system slowdowns and, in many cases, result in costly development and/or business process interventions to rectify the problem. We know from years of experience that our clients have reduced overall total cost of ownership, benefitted from predictable expenditures, and can experience industry-leading reliability with Soliant.cloud's properly and professionally configured server and infrastructure architecture.
Take Advantage of AWS Cloud Services on Soliant.cloud
Soliant.cloud provides access to much more than just best-in-class FileMaker Platform hosting. We make it incredibly easy to extend your FileMaker solution to fully take advantage of AWS cloud infrastructure and services. For example, we frequently configure Site-to-Site VPN to allow our clients to connect to their On-Premises Active Directory for External Authentication to their FileMaker applications.
But that's just the beginning. We designed Soliant.cloud to open up FileMaker and interoperate with the latest and most innovative technologies available so that our clients can successfully navigate the complexity of today's world. As part of our infrastructure as a service, we allow for unlimited customization. As AWS Select Consulting Partners and authorized AWS SPP (Solution Provider Program), our AWS certified engineers and solution architects well-positioned to customize your deployments to take your business to the next level.
Virtual Desktop Infrastructure (VDI), Smart Factory Services, and More
We recently implemented Virtual Desktop Infrastructure (VDI) in the form of Amazon Workspaces for a client. Workspaces allows LAN-like speed for our clients' remote workforce via access to cloud-hosted end-user desktops. For another client, we are analyzing the benefits of the latest Smart Factory services announced by AWS at the annual Re:Invent conference. New services like Amazon Monitron, Amazon Lookout, and AWS Panorama Appliance, along with existing AWS services such as Amazon Redshift, Amazon SageMaker, and Amazon Forecast give organizations the capability to quickly leverage Artificial Intelligence and Machine Learning to improve their manufacturing operations and their bottom line.
From there, the possibilities are endless. Contact us today to start taking advantage of a vast array of available AWS services that provide cost-effective, powerful solutions to your most demanding application requirements.
Cost Management and Billing
We developed Soliant.cloud to not only be intuitive and approachable but also to be cost-effective for our clients. With that in mind, Soliant.cloud leverages the pay-as-you-go AWS cloud pricing model — you only pay for the dedicated resources you use.
In alignment with AWS best practices, we designed our infrastructure so that each client gets their own discrete AWS client organization account while we manage all cross-account administration. This gives complete clarity into resources consumed and thus gives a clear understanding of associated costs, as well as raises your security posture with network isolations. Our cost optimization strategy makes it nearly effortless to add dynamic services and continuously improve infrastructure while monitoring and controlling costs.
Next Steps for Your FileMaker Solution on AWS
We are excited to release these new self-service features to our clients and continue to improve the architecture of Soliant.cloud.
FileMaker applications may be just part of what you do, or they may be the backbone of your business. Easily integrating with dynamic cloud services and APIs as well as quickly adding infrastructure will allow your business to continue to innovate in today's competitive environment. We designed Soliant.cloud as the gateway to connect FileMaker to the possibilities of the cloud from the start and can leverage enterprise cloud infrastructure and services that may otherwise be cost-prohibitive.
Feel free to reach out to us anytime. We are happy to discuss opportunities and possibilities for your solution. We partner with SMBs and workgroups in large enterprises to migrate to and navigate through the cloud. Learn more about our cloud consulting services, or contact one of our consultants directly to get started.