At the beginning of every year, the entire Soliant Consulting team gets together for our annual offsite. We meet at a resort central to all team members, focus on recapping the previous year, setting goals for the upcoming year, overcoming challenges as a team, and, of course, for a little team bonding.
<! -- /ends callout-small -->
We've been doing this as a team since our very first year as a company, and it's helped us stay focused, collaborative, and innovative. The annual tradition allows our employees from all three offices and our remote employees to forge stronger relationships with one another. The offsite keeps our culture results-oriented, transparent, and, most importantly, fun. It's a great way for us to kick off a new year, too!
Opening Reception and Dinner
We start each offsite with an opening reception and dinner, allowing our travel-weary team to catch up with one another in a relaxed environment before kicking off the official Offsite festivities on Thursday. Our CEO, Bob Bowers, stands up to welcome everyone to the annual event and say a few words about the year behind the team and the days ahead. This also serves as a great icebreaker for our new team members, who can mingle with our veterans in a no-pressure environment.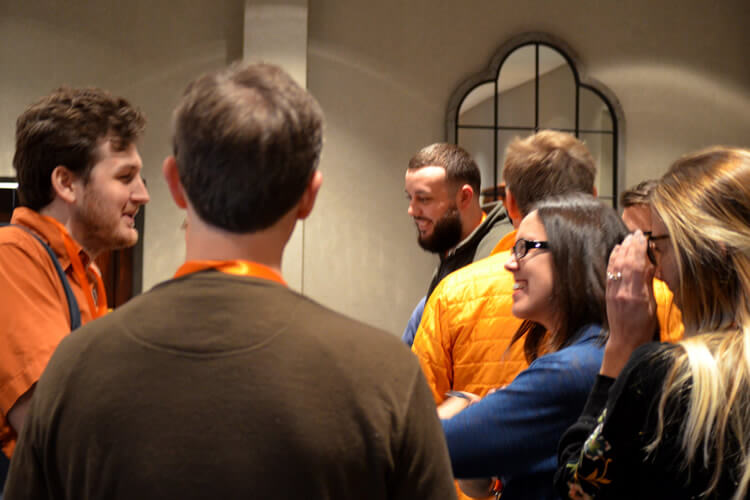 Day One Sessions
Day one always starts with the "State of Soliant," from our CEO, Bob Bowers. He reviews our previous year's financials and how well we met our goals. Then he sets out goals and priorities for the year ahead. This keeps everyone in the team in the loop on how they can contribute to these goals and promotes transparency through Soliant's culture.
Then our Director of Marketing, Allison Arthur, presented on how Soliant's marketing strategies have evolved in 2017 and what lies ahead for 2018. As the company champions collaboration, the entire team got involved with questions and input.
Team Building Ziplining and Escape Rooms
The Offsite always includes some form of an Engineering Challenge – small teams form and compete to achieve a set goal or build something with a specific function. This year's challenge was organized by Managing Director, Gillian Gentry, and we took things in a different direction than usual. Teams were challenged with finding their way out of the popular "escape rooms," provided by a local small business, Vroom Vroom Escape Room. Team members were encouraged to work together to puzzle out the clues and emerge victorious from the rooms in under an hour. Everyone had quite a bit of fun, and the activity allowed team members from different offices to collaborate and get to know one another better.
Then, the team went on a ziplining excursion. We donned our safety gear, took our quick training course, and started zipping from one tree to another. We had fun coaching one another through overcoming our fear of heights and encouraging one another from platform to platform.
Annual Talent Show
Each year we host our grass-roots Soliant Talent Show, which is entirely volunteer staffed by our employees. This event gives everyone the opportunity to showcase their extracurricular skills and talents. In the past, we have been serenaded by our own opera singers, banjo players, guitarists, violinists, Shakespearian actors, poets, embroiderists, painters, home designers, and more. We all enjoy getting to see the hidden talents of our team members.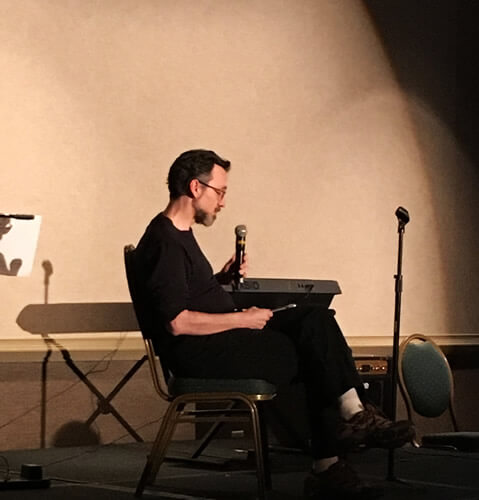 This year featured a lot of musical talent, with team members from across the country collaborating on acts. We also enjoyed a rap about an employee's homeland, a presentation celebrating an employee undergoing Search and Rescue training, a reading of a team member's original writing, a dessert-tasting, swing-dancing, and more! We all feel quite lucky to be a part of such a vibrant group of people and enjoy celebrating one another's strengths.
Day Two Sessions
Day two was just as busy as day one, with eight sessions scheduled for the day.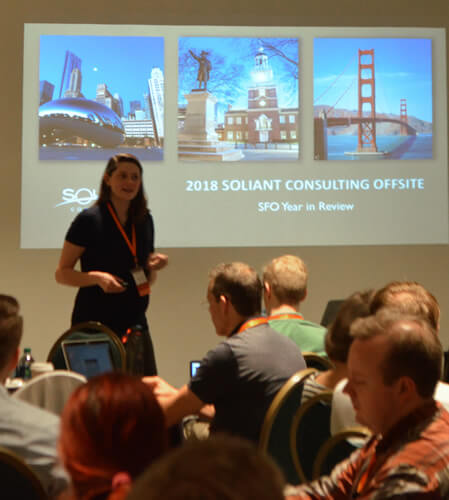 Each Managing Director – Gillian Gentry (San Francisco office), Patrick O'Rourke (Chicago office), and Craig Stabler (Philadelphia office) — spoke about their team's 2017 accomplishments and what we have to look forward to in 2018. This was also a great opportunity for other offices to learn more about the annual events specific to each office. Philadelphia has an annual golf challenge, for example, while Chicago conducts a Halloween pumpkin-carving contest each year.
Our team of practice leads – Wim Decorte and Dawn Heady (FileMaker), Gus Melendez and Jayvin Arora (Salesforce), and Jeremiah Small and Jesse LaVere (Custom Web Development) presented on how our technical expertise and services have grown over the past year. They discussed their top projects and highlighted how their teams have evolved.[space="1″]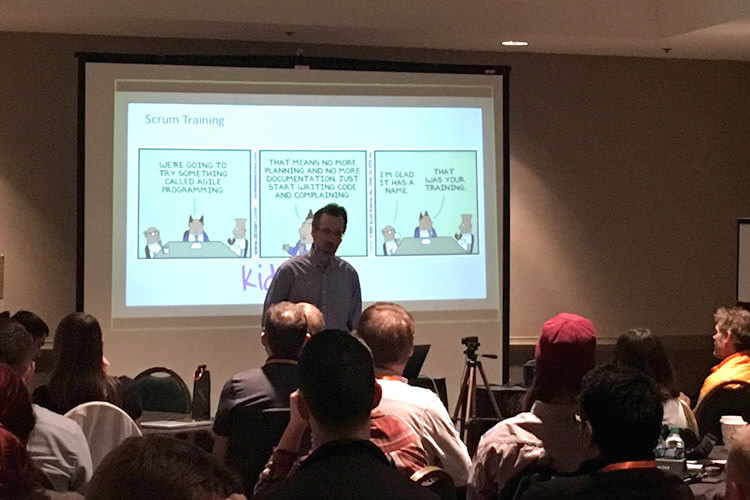 Our CTO, Steve Lane, also delivered a powerful training session on project estimation and how our team drives transparency with clients, exceptional project management, and high-quality product delivery.
Bill Heizer presented on a new Soliant offering, Soliant.cloud®. Launched in 2017, the service combines industry-leading FileMaker Server experience with comprehensive and reliable application hosting. Bill was excited to announce Soliant.cloud's accelerated growth since launch and outline 2018 plans for expansion.
Bob Bowers also led a discussion on how and why we do things as a company, highlighting what works, what doesn't, where we've made progress, and where we need a bit more effort and growth in 2018. During this conversation, he championed our strengths and encouraged the team in our areas of potential growth.
Annual Awards Dinner
Later that evening, the team celebrated team members' accomplishments in the Offsite's farewell dinner and awards ceremony. A key cornerstone of Soliant's collaborative culture is recognition of our amazing team members, and our awards allow us to highlight some of the top performers each year.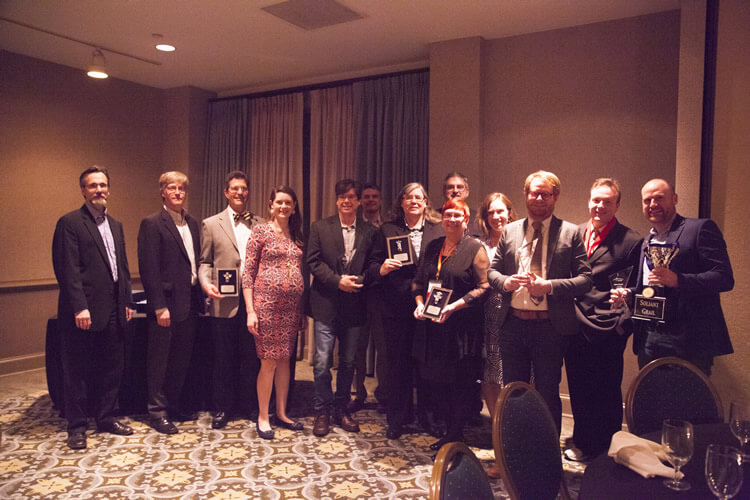 We commended the following team members with a Rising Sun for their hard work in 2017:
Ross Johnson: For Exceptional Client Commitment
Sara Severson: For Trusted Mentorship and Helping Soliant Mature
Steve Bennett: For Outstanding Project Leadership and Client Service
Bill Heizer: For Technical Leadership and Innovation
Steve Bennett was also awarded the Soliant Grail, an annual award for the most productive team member of the year.
Volunteer Day
To wrap up the Offsite, team members can choose to stay for the weekend and participate in a volunteer event. This year, we spent several hours at the Georgia Mountain Food Bank. We sorted through donations and packed up boxes for distribution. As a team, we sorted through more than 200 boxes of food, medicine, and household goods and packed up more than 120 boxes to be sent out to those in need. Our team had a wonderful time giving back to the community and look forward to our next team volunteer event.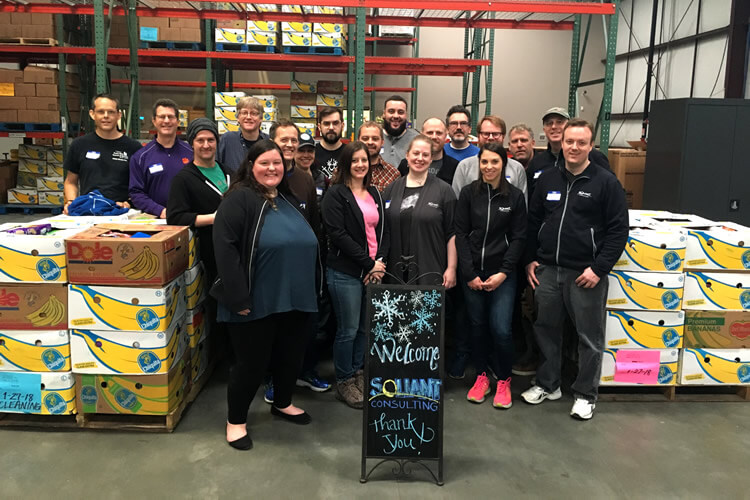 Jumping into 2018
Our annual Offsite always serves to light a fire under our team and motivate us to build even better software and drive more success for our clients. We enjoyed getting to see one another for a few days and already can't wait until next year!