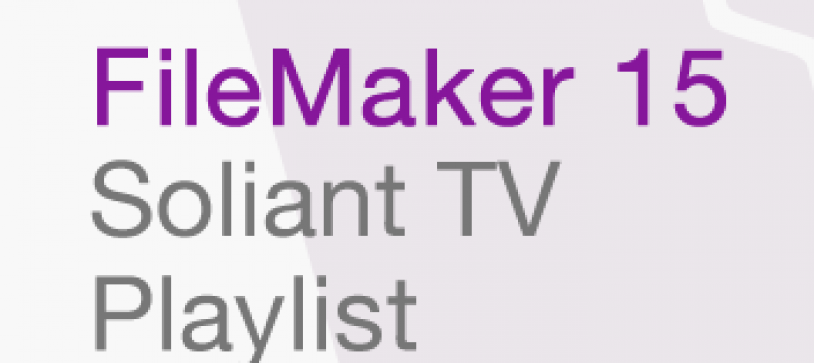 10
May 2016
As with past releases of the product, FileMaker, Inc. invited Soliant's team to be a part of the initial testing of FileMaker 15. We've spent the past months working with this new version and we're happy to help familiarize you with its features.
May 10, 2016
- FileMaker, Inc. has released the new version of its platform: FileMaker 15. Soliant Consulting introduces you to the new features found in FileMaker Pro, FileMaker Server, FileMaker Go, and FileMaker WebDirect. This video gives you a brief summary of all those new features and invites you to stay tuned to social media for more videos and posts about this new version.
May 11, 2016
- The newly improved script workspace in FileMaker 15 comes with some great enhancements. In this video, Jeremy Brown explores the error color coding conditions, general UI tweaks, and the much-requested undo/redo feature. We will look at these features as well as some things to watch out for as you them.
May 13, 2016
- The new FileMaker Server 15 "Top Call Stats" feature helps us identify potential bottlenecks by showing the most expensive user activity, broken down by user and by the type of action that is being taken.
May 17, 2016
-
Martha Zink explains how FileMaker 15 interacts with iBeacons, bringing together physical space with data stored within a FileMaker app. This video shows the new FileMaker function, RangeBeacons, discussing the necessary and optional parameters, as well as the results from the function.
May 19, 2016
- FileMaker 15 users are no longer blocked from interacting with a layout due to a portal that is taking a long time to load. The new portal in-line progress bar feature (a.k.a. threaded portals) offloads the task of loading "expensive" portals onto separate worker threads, so that the main thread can finish more quickly and return control back to the user.
May 26, 2016
- In this video, Martha Zink expands upon the iBeacon functionality in FileMaker 15 by showing how FileMaker can create a log every time a user checks for iBeacons nearby from a FileMaker app. With this information, a business can get a general idea of what users are most interested in or what areas of the location (in this case, museum).
May 31, 2016
- Now that FileMaker can detect iBeacons that are in range, FileMaker apps have a new way to provide information to users. In this video, Martha Zink shares a demo file created by Bill Heizer, showing how FileMaker Go can use iBeacons to provide valuable information to attendees of a boat show, giving them live information about nearby vendors.
Sent