Our downtown Chicago office sits in the West Loop between two great neighborhoods: Greek Town and Restaurant Row (we've got a ton of great lunch options). We're just down the street from the United Center and minutes from The Loop, River North, and Near North neighborhoods.
Our Chicago team is composed of developers, consultants, project managers and experienced professionals with one goal – providing the Second City with first-rate custom business solutions. We partner with businesses, both in the Chicagoland area and nationwide, to develop custom applications designed to take their business to the next level.
Soliant Consulting's Chicago team encompasses all three areas of our practice – we have professionals in FileMaker, Salesforce, and Web App development ready to help your business craft a software solution that fits your needs. With decades of combined experience, we can tackle almost any software issue you throw our way.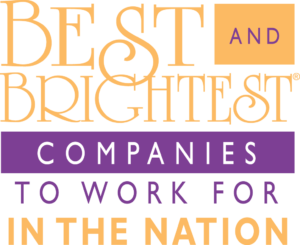 In June 2018, we were honored to be selected as a Best and Brightest Company to Work for ® in Chicago. Read the news about why Soliant was selected for this prestigious award.
We host the monthly Chicago Area FileMaker Developer Association meetings where local developers gather to share ideas. If you're interested, check them out on Meetup.
We believe in being connected with our local communities. Soliant Consulting's CEO and co-founder Bob Bowers was inducted into the Chicago Area Entrepreneurship Hall of Fame that honors leaders who have demonstrated entrepreneurial spirit and founded a business. Read the news here...
We've also given to local charities including Chicago PAWS, Christo Rey Jesuit High School, Greater Chicago Food Depository, High Jump, Inspiration Corporation, Open Books and VOCEL.
We work hard and play hard - we hold regular lunches for our team every other week, when the weather permits we'll grill on the roof-top patio, and of course there's the annual Halloween pumpkin carving contest along with our Christmas holiday party. We're proud to be Chicagoans and regularly participate in Hustle up the Hancock and the local Spartan Sprint. It goes without saying that we're fans of the Cubs, the Bears, the Blackhawks, the Bulls and the Sox.
If your business needs a custom software solution in FileMaker, Salesforce or a Web Application, give us a call or fill out the form to get in touch with our Chicago team. We'll guide you through your technology options, work with you to understand the unique needs of your business, and ultimately deliver a world-class software solution that's tailor made for you.
If you'd like to join our team, check out our current openings. We're always looking for excellent new people to join the crew.